Rhymezlikedimez Brings His 'Utopia' to Life
2023 has been a big year for Robin Velghe – more commonly known by his artistic alias Rhymezlikedimez. The 29-year-old Belgian artist has continued to evolve and expand the dreamy universe of his avatar, Puff – partnering with Toyqube to literally bring him to life – while also joining forces with the likes of Adult Swim and Erykah Badu to bring his signature animated aesthetic to new realms of storytelling. Velghe's latest venture is more immersive than ever, and includes another big name; the multifaceted artist has looked to none other than Travis Scott's Utopia to curate a capsule inspired by the album.
"I heard Utopia, saw the album rollout and just thought 'this is the perfect imagery,'" Velghe conveys of his almost instant moment of inspiration; when he sat down to sketch, he already knew he wanted to do more than one illustration. Though he is the first to admit he's a rather "distracted" individual, when it comes to creating something, he's all about structure and consistency, so a storyboard always comes first. "I strongly believe a good storyboard is the basis of any good visual story, as you don't get distracted by design details or color palettes yet," he shares.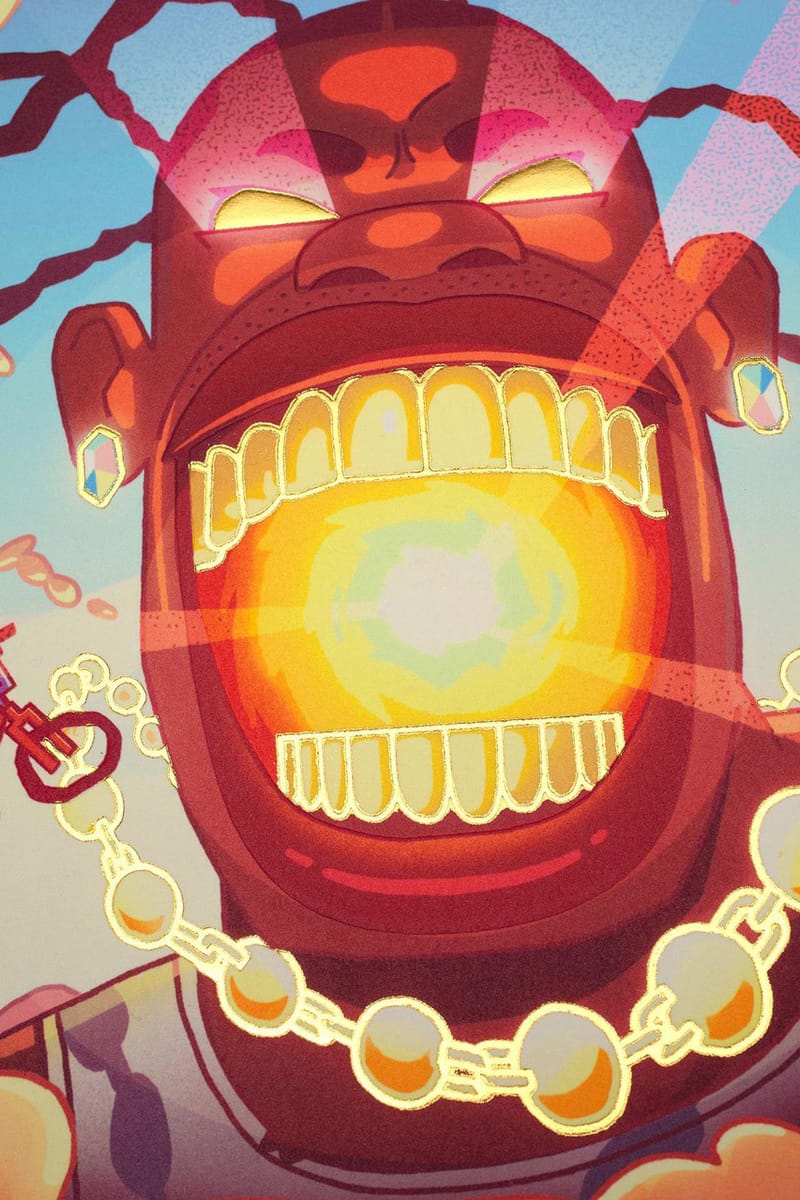 Rhymezlikedimez
Last week, Velghe officially dropped off the animated short trailer – dubbed Once Upon A Time In Utopia – which sees Puff posted up with La Flame, each pondering their respective utopias. "The sunlight is bouncing off the flowers everywhere. Beautiful chord progressions are playing from the skies, and I'm biking above the clouds," Puff, voiced by Velghe himself, hollers up to the rapper, on a parasail, before asking him, "yo La Flame, what's your utopia?" The album's upbeat opener "HYAENA" kicks off as the rapper takes Puff through his utopia, complete with monster trucks, fast cars and lots of fire. "Yours was kinda whack though," Puff and Scott each tell each other upon their return to reality.
Velghe, who views Puff as an extension of himself, shares that Puff's utopia was the "easiest part" of the project to create, as the avatar's dream world is inspired by his own. "I'd love to live in a place where my favorite melodies are always playing and it's always sunny weather. I'm from Belgium and all we know is rain over here," Velghe shares. "Plus I love biking, and what better place to bike than above the clouds, coasting into a sunset?"
It's his connection to his characters and the ever-expanding Rhymez universe that made expanding his Utopia concept a doable task. Velghe also crafted two Once Upon A Time In Utopia prints – the first is a giclée print and the second is a textured, sculpted print complete with embossment and gold foiling. Take a closer look at the detailing in the gallery below.1 of 2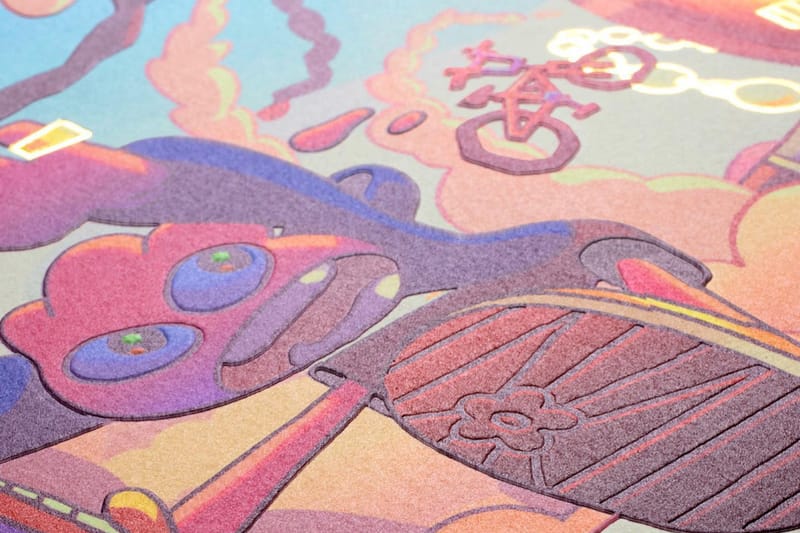 Rhymezlikedimez2 of 2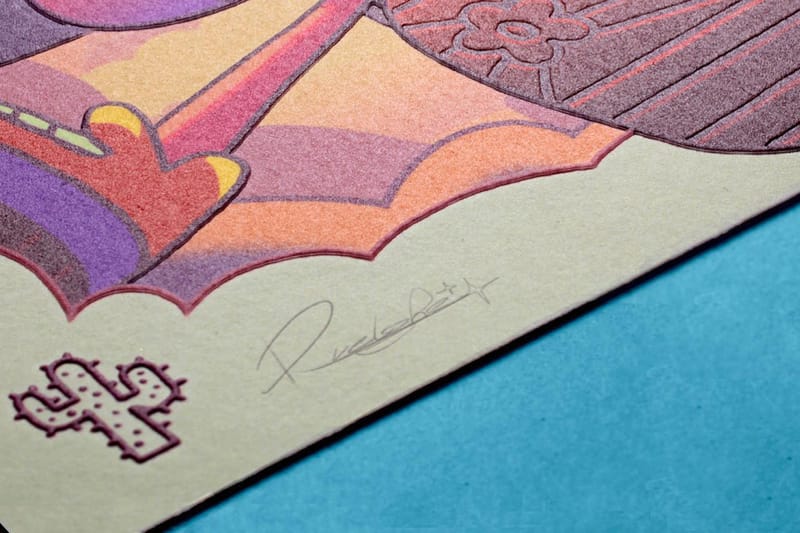 Rhymezlikedimez
"It's so much fun to take a legend and translate him into a character in the Rhymez universe," Velghe shares. "We don't usually get to see these artists in a context like that. These are honestly the cartoons I wish I could watch as a kid." He has also curated a customized zine entitled What Makes You Say This Isn't Utopia, which offers a "behind-the-scenes look" at Once Upon A Time In Utopia, though a release has not been announced yet.
Prints – all signed and numbered – are available for purchase now on Rhymezlikedimez website. Buyers should expect shipping in 3-5 weeks for processing and shipping.
Elsewhere in the art world, Yinka Ilori made his U.S. debut with his "Ojukokoro" collection. He sat down with Hypebeast to share more about his creative process.
Source: Read Full Article