Tom Cruise And Nicole Kidman's Son Is Completely Unrecognizable After Debuting New Look
Tom Cruise and Nicole Kidman adopted their children Bella and Connor in the '90s, according to Page Six. And although the actors are some of the most famous movie stars of all time, their kids — particularly their son — remain out of the spotlight.
Cruise raised his son and daughter Isabella in the Church of Scientology, which they continued into adulthood. Kidman opened up about their decision to follow Scientology in a 2018 interview with Who magazine, saying that although she might not agree with the church, she loves her children unconditionally. "They are adults. They are able to make their own decisions. They have made choices to be Scientologists and as a mother, it's my job to love them," she explained. "And I am an example of that tolerance and that's what I believe — that no matter what your child does, the child has love and the child has to know there is available love and I'm open here," she said.
"I think that's so important because if that is taken away from a child, to sever that in any child, in any relationship, in any family — I believe it's wrong," she continued. "So that's our job as a parent, to always offer unconditional love."
Three years later, Connor is in the news for making us do a double take. Keep reading for more details — and check out his new look below.
Connor Cruise made a major change to his appearance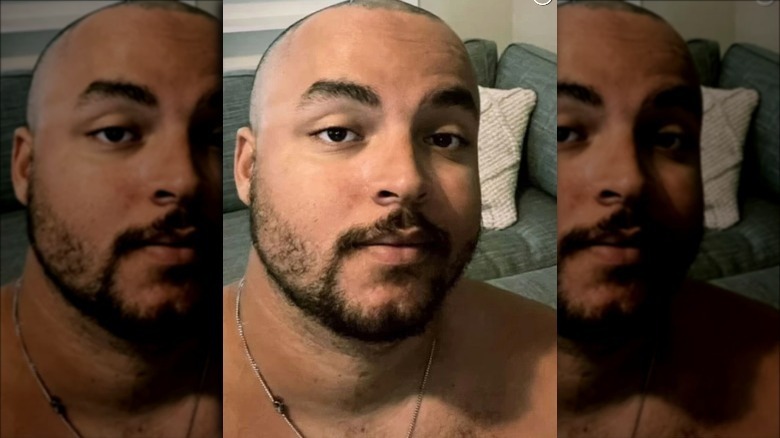 Connor Cruise, is that you? Tom Cruise and Nicole Kidman's son debuted his clean-shaven face on his Instagram story (via Page Six), and this new look is turning heads!
On June 8, he took to his Instagram story and wrote, "New face, who dis?" and was clearly excited about trading his beard for a clean buzzcut. His low-maintenance look seems to jive well with long days spent on a fishing boat, which he documents on Instagram. (He also has an account dedicated to smoking and cooking meat.) When he's not reeling in fish, he's practicing Scientology in Florida near the church's main headquarters, according to People. "Connor lives in Clearwater, which is the church's main hub. He still deejays but he has really become a big fishing guy," a source told the outlet in February. "He's content with living a quieter life."
A source previously told the outlet in March 2019: "Connor has a pretty simple life in Clearwater. He lives in his own home in a Scientology community." They elaborated that "his life is deep-sea fishing," and that "he has a lot of friends and seems very well-liked."
Source: Read Full Article