The Real Reason Lindsie Chrisley Will Never Reconcile With Her Family
Fans of "Chrisley Knows Best" have learned a lot about Todd Chrisley and his family over the past few years. Todd's second wife Julie and their kids Savannah, Chase, and Grayson are featured on the series. However, his oldest kids, Kyle and Lindsie Chrisley, are no longer involved in filming. In fact, Todd's relationships with both Lindsie and Kyle, who were from his first marriage to Teresa Terry (per Distractify), have been rocky. Now, Lindsie insists the relationships with her dad and the rest of the family are irreparable.
Lindsie appeared on "Chrisley Knows Best" in the early seasons. However, as ET Online noted, she departed in 2017. A statement from her representative explained, "She drove back and forth from Atlanta to Nashville for almost a year to keep filming going and ultimately decided to leave the show when it was no longer a healthy environment for her and her son." On an episode of her podcast "Coffee Convos" with "Teen Mom 2" star Kailyn Lowry, Lindsie acknowledged she struggled to fit into her family at times. She mentioned that she "just kind of felt like an outcast" with the family, noting that her stepmom, Julie, legally adopted her. Lindsie noted the family never intentionally made her feel that way, but she struggled to feel a part of the group. "I always felt like something wasn't whole," she explained.
Lindsie Chrisley believes there is 'no chance' for a reconciliation
The estrangement between Lindsie Chrisley and the rest of her family accelerated during the summer of 2019, detailed ET Online. Todd and his wife Julie Chrisley faced allegations of tax evasion and Lindsie's name was brought into it. Todd and Julie alleged Lindsie turned them in to authorities, though she denied it. As TMZ detailed, Lindsie claimed Todd tried to blackmail her by threatening to expose a sex tape involving her and someone from "The Bachelorette." Fox News claimed Lindsie had allegedly been intimately involved with both Josh Murray and Robby Hayes from the franchise while she was married to then-husband Will Campbell.
Lindsie and Todd have remained estranged, and she told ET Online she doesn't see any possibility they could reconcile. "I think that the most that anyone could ask for at this point is for everyone to go on with their lives as they see fit and to just leave the other side alone." Lindsie admitted she misses her family in some senses, but "at this point, there will be no chance for reconciliation." 
She noted she will "continue to respond to whatever allegations are put out" by family members, but she feels it's healthier to keep her distance otherwise. The former "Chrisley Knows Best" star wants "to protect my peace" and feels she's frequently dragged into family-related drama because "I'm not a part of them." She added she's "the outsider looking in. And so I'm always the target."
The former 'Chrisley Knows Best' star wants distance from toxicity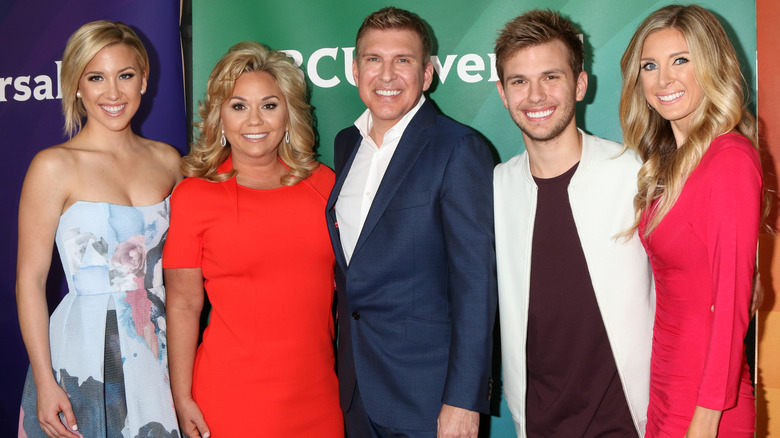 Lindsie Chrisley told ET Online counseling provided her with valuable insight regarding her family. "Through therapy over the last year, I had just been advised by my therapist to not tune in, to not follow along on social media, things that were being posted because it's triggering to me," Lindsie detailed. She added she's tried "to distance myself from that as much as possible," but hears about family members' posts via others. With that, Lindsie admitted, "it's hard not to want to respond to those things. Because some of the things that have been said either are just categorically false or maybe the intentions I don't feel are pure."
On his podcast, "Chrisley Confessions," Todd referenced the "friction between Lindsie and her siblings and the jealousy that's involved there." The "Chrisley Knows Best" star said he didn't understand "how these kids can come from the same household, be given the same thing, and be loved the same way" but then "have one that loathes all of their other siblings." 
Lindsie told ET Online the idea she's jealous is simply untrue. "What is there to be jealous of?" she questioned. "I moved away from something that I felt was toxic and not in my best interest and forged my own path," Lindsie added. She noted she's got a "great life" away from the public eye and she wants her estranged family to "Leave me alone. Let me live my life."
Source: Read Full Article