'The Conjuring' Movies, Ranked Worst to Best (Photos)
How does "Annabelle Comes Home" rank in the "Conjure-verse"?

5. "The Nun" (2018)  Corin Hardy's "Conjuring" sequel features nifty monster effects and spooky locations, but it plays more like a gothic adventure than a horror movie. And as a gothic adventure, it's uneven, waffling haphazardly between gross, goofy and grim. Demián Bichir and Taissa Farmiga star as agents of the Vatican, investigating the mysterious death of a nun, only to discover that the isolated convent is actually a prison for an ancient evil. "The Nun" is fast-paced, and certainly never boring, but the total lack of subtlety makes it hard to take seriously, let alone get scared.


4. "The Conjuring 2" (2016)  Sequelitis strikes in "The Conjuring 2," an effective but bloated follow-up that features more demons, more domestic strife, and more audacious shocks. Once again, Ed and Lorraine Warren find themselves in a based-on-a-true-ghost-story: The Enfield Poltergeist, which tormented a working-class family in the late 1970s. It's a nail-biter, with some standout set pieces and terrifying villains, but director James Wan crams so much content into one film that the pacing can't help but suffer.


3. "Annabelle Comes Home" (2019)All the demons from the Warrens' creepy artifact room get unleashed, and it's scary as hell, but that's not selling point of "Annabelle Comes Home." Mckenna Grace, Madison Iseman and Katie Sarife take center stage as intriguing, complex, often melancholic teens whose soul-searching slumber party gets interrupted by fantastic and inventive nightmares. Those demons are obviously set-ups for future installments, but the film is satisfying on its own, thanks to a smart script by Gary Dauberman, who also makes his directorial debut. The worst you can say about "Annabelle Comes Home" is that it drags a bit in the middle, but it the bravura third act more than makes up for that.


2. "Annabelle: Creation" (2017)  The prequel to the first "Conjuring" prequel is a rollercoaster of a horror movie, a scary and surprising crowd-pleaser that finally does the creepy doll proud. A group of orphans move into a home with a strange family, whose daughter died tragically, and after one of the young girls discovers a spooky doll in the deceased child's bedroom, all hell breaks loose. David F. Sandberg knows how to build suspense and how to pay off that eeriness in unexpected, popcorn-spilling explosions of nightmare fuel.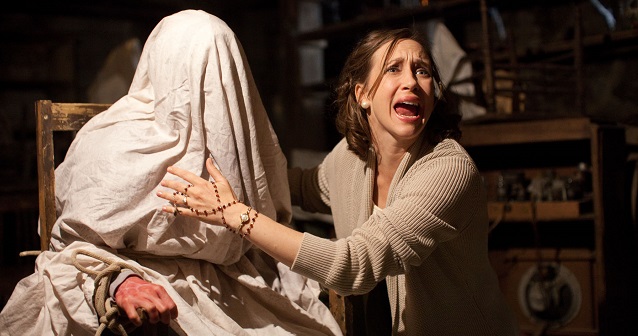 1. "The Conjuring" (2013)  The original "The Conjuring" is still the classiest, spookiest, most satisfying film in the franchise. Patrick Wilson and Vera Farmiga are wholly believable as real-life supernatural investigators Ed and Lorraine Warren, who take on a terrifying new job when a troubled, working-class family moves in with an evil spirit. "The Conjuring" subtly builds a mythology while telling a satisfying, terrifying, self-contained ghost story, with a standout performance from Lili Taylor as the matriarch whose pent-up anxieties become disturbing realities. James Wan took the operatic style he developed for the "Insidious" movies, and this time uses it as a counterpoint to plausible, dramatic subtlety. It's Wan's best film, and a modern horror classic.
Source: Read Full Article