Quick Question After Reading Hannah B.'s 'Bachelorette' Tweets: You Okay?
[Warning: Bachelorette spoilers beyond this point.]
Hindsight is 20/20, and Hannah B. is currently learning this the hard way. It's not just psycho Luke P. that's got her down…or the texts from Jed's ex girlfriend. Reality Steve just dropped a serious bombshell that not only has Alabama Hannah reportedly broken up the engagement with her Bachelorette winner, but she's through with him for good. I won't say who it is, promise. For those of you who want that kind of spoiler, click here.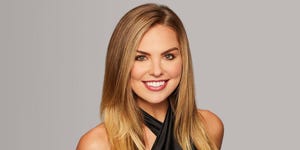 This season is kind of a mess, isn't it? Not only has Hannah had to deal with Mark Wahlberg from Fear, but she's also dealt with petty boys (Other Luke and Garrett), guys who probably, maybe (definitely) had girlfriends during casting, and now it looks like her fairytale ending has gone up in smoke.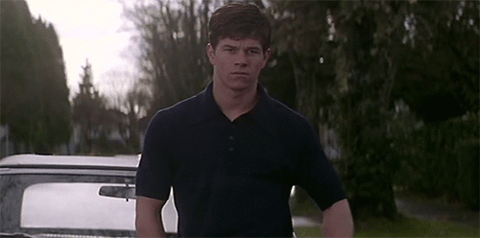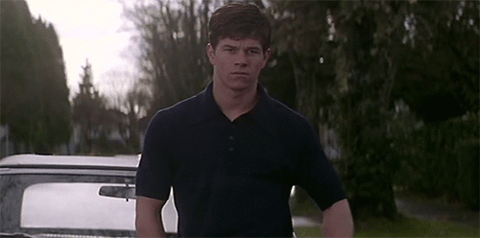 So what's a girl to do? Tweet.
Patience. Not my virtue.
Could this be about her breakup? Unlike most of Hannah's tweets, this guy came on June 30th, not during an episode of her Bachelorette season. 😬
Then came these:
I just looked up archery classes. Pretty interested in this. Maybe I'll go all in Katniss Everdeen style. pic.twitter.com/w59JAt02Yg
therapeutic. that's what I need. what my inner rage tank needs asap. https://t.co/MtyIcbNZgW pic.twitter.com/hawnkCI6TP
…Yeah, girl seems pissed. I don't blame her. Whether it's about a bad breakup or just the fallout from Jed's ex (hey, even if he's not the winner, this must still sting), Hannah has every right to be angry.
But let's get to this week's live tweets, because they're angsty gold.
Everyone: "it's almost time for the @BacheloretteABC to start!" #TheBachelorette
Me: pic.twitter.com/nEb9SAvcPs
After this well-deserved cringe (have you seen this ep? she lived it), things started off sweet and mild enough on Hannah's twitter. She commented on her chocolate intake and how she does not sound sexy when she's sick, but then it got to the part of the ep where she said she didn't like how her parents communicate with each other.
Guess what? She was watching this episode with her parents! Awkward.
when you roast your parent's communication skills sitting right next to them. #TheBachelorette pic.twitter.com/KU9SMnwsMz
Things went off the rails from there. Especially when all the Luke drama started going down.
i'm just gonna be here. #TheBachelorette pic.twitter.com/aGPkV7atkL
breathe in. breathe out. calm down lil' beast. pic.twitter.com/H92ghGWvsO
Oooof. But what about all the bologna talk?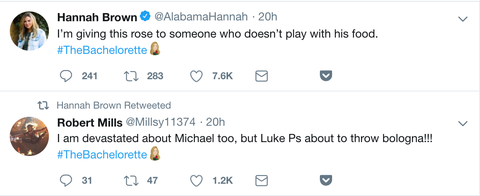 Remember when she kept Luke around and we were all like, WTF? HER TOO.
my parents are giving me the look you are all giving me right now. #TheBachelorette
when mom starts off with "I don't want to make you feel bad but…" it's not good. #TheBachelorette
and I'll be in my hole. bye. #TheBachelorette
So, quick question for Hannah. You okay?
I'm fine. I'm fine. pic.twitter.com/vihvoxkh84
Source: Read Full Article