Nick Cannon, Annie Lennox and 16 Other Surprising New Academy Members
How were Oscar winners like Adele, Phil Lord and Chris Miller not invited sooner?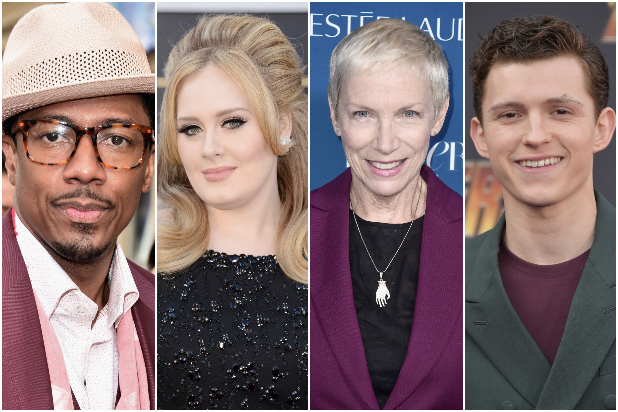 Getty Images
The latest batch of new members invited to the Academy of Motion Pictures Arts and Sciences continues a tradition from the last few years, with many more nonwhite members and the first ever gender-equal invite list.
This year the Academy invited 842 members into their ranks. Exactly half were women, and 29% were people of color. It puts the Academy on pace to meet its 2020 diversity goals, if not surpass them. The number of nonwhite members has already doubled in the last three years, and the number of female members could double by next year.
But to do that, the Academy invited…Nick Cannon? We love "The Masked Singer" and "Drumline" as much as the next guy, but we definitely did not see that one coming. And the Academy even went all-in on Marvel, inviting Spider-Man himself, Tom Holland, as well as "Black Panther" breakouts Letitia Wright and Winston Duke, who could easily be in the awards conversation before long, but this is a pleasant surprise.
And then there were individuals like "Mad Men" star Elisabeth Moss or "The Good Wife" alum Archie Panjabi, who are better known for their work on TV than on the big screen, or screenwriter Kay Cannon, whose best known scripts are for commercial fare like the "Pitch Perfect" series that seldom garners awards attention.
There were also people who you might be surprised to learn weren't already voting members of the Academy. What, did their invites get lost in the mail? How in the world was Adele, who won an Oscar for her original song for "Skyfall," not already a member? Singer-songwriter Annie Lennox won her Oscar way back in 2004 and she's only just now been added.
Or what about Phil Lord and Christopher Miller, who seem to be such a massive oversight that they've been added to three separate Academy branches at once, including for directing, writing and for animation.
Tracy Letts might only be a Pulitzer- and Tony-winning playwright, but he only just got in, as an actor no less. Melanie Laurent of "Inglourious Basterds" fame is a brilliant actress, but she got her membership for directing. And don't forget Jean-Louis Trintignant, who may have been a figurehead of the French New Wave, but finally got his membership at the ripe old age of 88.
Here are some of the other surprising names we spotted among this year's invitees:
Really, Them?
Kay Cannon ("Pitch Perfect") — Writers branch
Nick Cannon ("Drumline") — Member at large
Will Gluck ("Peter Rabbit") — Directors branch
Tom Holland ("Spider-Man") — Actors branch
Mélanie Laurent ("Galveston") — Directors branch
Elisabeth Moss ("Us," "The Old Man and the Gun") — Actors Branch
Archie Panjabi ("The Good Wife," "The Constant Gardener") — Actors branch
Letitia Wright ("Black Panther") — Actors branch
Wait, They Weren't Already Members?
Adele Adkins (Oscar winner for "Skyfall") — Music branch
Jamie Bell ("Rocketman," "Billy Elliot") — Actors branch
Roman Coppola (Oscar nominee for "Moonrise Kingdom") — Writers branch
Annie Lennox (Oscar winner for "The Lord of the Rings: The Return of the King") — Music branch
John Lesher (Oscar winner for "Birdman") — Producers branch
Tracy Letts ("August Osage County" writer) — Actors branch
Phil Lord and Christopher Miller (Oscar winners for "Spider-Man: Into the Spider-Verse") — Directors, Animation and Writers branches
Kevin Pollak ("The Usual Suspects," "A Few Good Men") — Actors branch
Jean-Louis Trintignant ("Amour") — Actors branch
Source: Read Full Article