LeBron James Slammed by Squid Game Creator for Criticizing the Shows Ending
The Netflix hit survival series' creator, Hwang Dong-hyuk, says that he is 'very thankful' that the NBA Star watched the whole series but tells him to 'make his own sequel' if he doesn't like the show's ending.
AceShowbiz –LeBron James gets slammed after criticizing the ending of "Squid Game". After the NBA star said that he didn't like the show's finale, the creator of Netflix's hit survival series Hwang Dong-hyuk had a biting response.
In an interview with The Guardian on Tuesday, October 26, the 50-year-old director/screenwriter said, "Have you seen 'Space Jam: A New Legacy'?" and laughed. He added, "LeBron James is cool and can say what he wants. I respect that."
"I'm very thankful he watched the whole series. But I wouldn't change my ending," Hwang stressed. He further pointed out, "That's my ending. If he has his own ending that would satisfy him, maybe he could make his own sequel." He then sarcastically added, "I'll check it out and maybe send him a message saying, 'I liked your whole show, except the ending.' "
Shortly after the interview was published, LeBron took to his Twitter account to share his response. Along with a news headline that read, "Squid Game creator Hwang Do-hyuk had something to say to LeBron's criticism of the show's finale," the four-time NBA champion wrote, "This can't be real right??!! I hope not," adding several laughing emojis.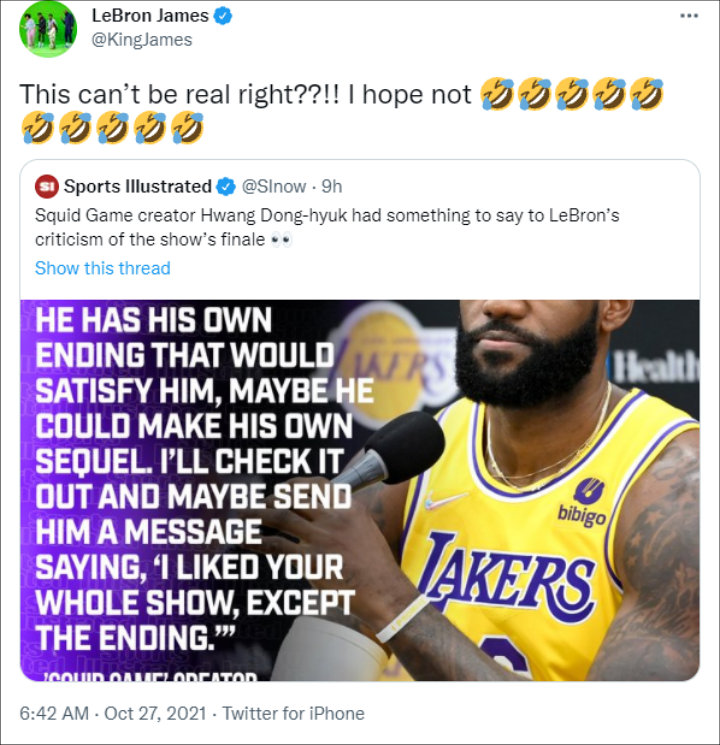 LeBron James reacted to Hwang Do-hyuk's statement.
Hwang's statement came after LeBron expressed his disapproval of the ending during a press conference following a pre-season game on October 12. At that time, Anthony Davis asked him if he finished watching the whole series.
"Yeah, I did finish it," LeBron replied. "You finish it? You watched it? You done? Yeah, I didn't like the ending though. I know they start it off with a Season 2, but, like, get on the f**king flight and go see your daughter, bro. Like, what are you doing?"
"Squid Game" follows a group of desperate, impoverished people risking their lives while competing in deadly children's games for the chance to win a huge cash prize. After Netflix's highly successful series became the most-viewed series ever on the platform and achieved a breakout international smash hit, Hwang said that season 2 is currently being discussed.
"Of course there is talk," Hwang shared. "That's inevitable because it's been such a success. I am considering it. I have a very high-level picture in my mind, but I'm not going to work on it straight away. There's a film I really want to make. I'm thinking about which to do first. I'm going to talk to Netflix."
Source: Read Full Article