Jules' Makeup On 'Euphoria' Is A Clue About Her Future With Rue
If you watch Euphoria, you stan the work of makeup artist Doniella Davy. I'm sorry, I don't make the rules. Literally everyone wants to know how to accomplish Maddy's (Alexa Demie) rhinestone liner or find out if they can pull off Rue's (Zendaya) glitter tears.
Be honest, can I pull off Euphoria eye makeup
In the Cosmo office—where everyone watches HBO's new hit series about teens overcoming addiction, abuse, and the horrifying wasteland that is high school—we have a group chat devoted to everything Euphoria, from Maddy and Nate's (Jacob Elordi) height difference to where tf it even takes place. And one question that keeps popping up: do teens really go to school looking like this?
https://www.instagram.com/p/BzHuyCTpJFX/
Maddy serving FIERCE at all times, Euphoria, Episode 2. Makeup applied by precision queen @kirinrider. #euphoriahbo #euphoriahbomakeup
A post shared by d o n i e l l a d a v y (@donni.davy) on
The answer, according to Doniella, is yes. "That is where my inspiration came from," she tells me over the phone and I wonder if she heard the skepticism in my voice. She tells me she spent hours and hours trolling Instagram and noticed something fascinating about Gen Z. "These young people are pushing the boundaries and not living by mainstream archetypes or stereotypes." That's her goal for Euphoria.
"It's not just corrective and pretty stuff. I see it as emotional stories on their faces being told through makeup. It's a completely new language, a totally new style."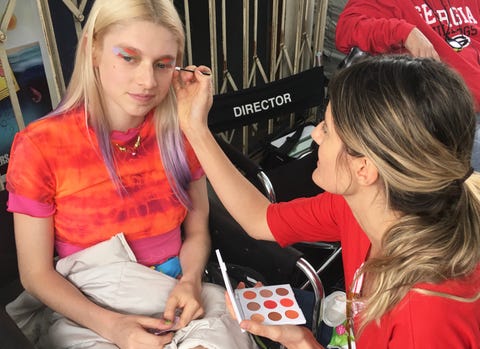 With that in mind, every look you see on screen tells a story and has a deeper meaning. Look closely, and you can even find clues to what will come next. Here, Doniella breaks down each girl of Euphoria's makeup profile, so you best pay attention, class.
RUE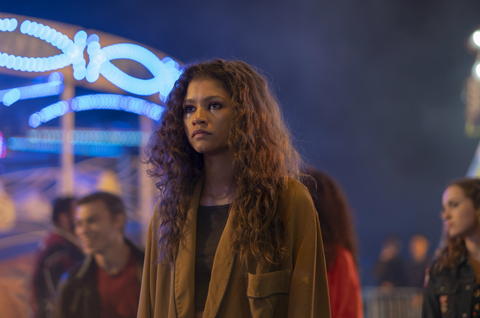 Obviously, Rue is a recovering drug addict, and spends much of her time in hoodies and boy shorts. At first, Doniella was planning to leave her makeup free, but decided to go against the obvious choice. "My whole mission here is to show these characters in a really cool, nuanced way," she said. Thus, the glitter tears we're all obsessed with were born. While at school, Rue's face remains bear, she always has makeup under her eyes when she goes out (e.g. her golden tears for Nate's party or the silver glitter at the carnival)
They're meant to look a mess, too. "They're going to be kind of smudgy and unpolished close up, but they have this amazing like, emotional quality that just feels like tears. It's so sad, especially when it's placed under her eyes."
MADDY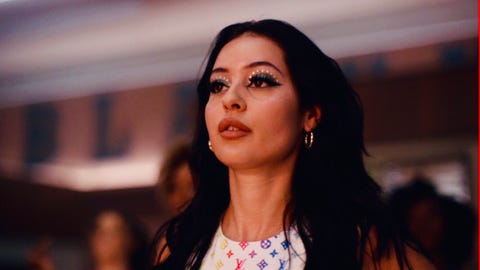 Maddy is the only character meant to be really good at makeup. Like most Gen-Zers, Doniella tells me, all our girls (except for Rue) watch a shit ton of Youtube tutorials, but "it does need to look like these people applied their makeup themselves." Maybe that's why Maddy's looks are so freakin' fun.
"Her eye looks are supposed to be miniature outfits." Doniella says it probably takes over an hour to do her makeup in the morning. But there's more to it than just coordinating colors. Take this look from episode two, for example:
Maddy wore this makeup the day after the party from Euphoria's pilot episode. You know, the one where she had sex with some rando because she was angry at her on-and-off boyfriend. "She's so mad at Nate after the whole party at McKay's house, and that look to me is like so animalistic and fierce." Just like Maddy.
KAT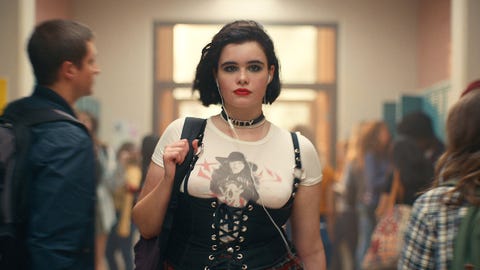 If anyone's gone through a transformation in the short time we've spent with these characters, it's my girl Kat (Barbie Ferreira). Just like every other character on this show, Kat turns a stereotypical archetype—in this case, "fat best friend"—on its head, evolving from nerdy Larry Stylinson fanfiction writer to pseudo-dominatrix cam girl after losing her virginity. To pull this complete 180, the look had to be on point. Thankfully, Barbie herself had some ideas.
"Barbie came to me with a mood board of images from Ghost World, And I was like, 'this is great. This is what I'm going to base your looks on.'" It's pretty uncanny. For those of us unfamiliar with the 2001 flick (I'm assuming most of us), Enid (Thora Birch) has a very similar vibe as Kat, who Doniella says lives "outside of the convention." "She dyes her hair green, and it's this rebellious version of beauty and glam." That's what she wanted to bring to Kat.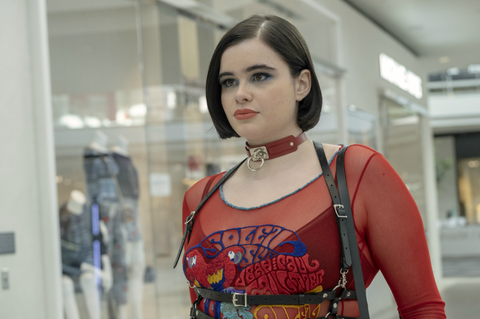 But once Doniella and Barbie had a look in mind, it was important they found a realistic way to make the jump. "She needs to ease into being someone who's really empowering her sexuality with makeup," Doniella says. That's where Roy and Troy McKay came in. Once she blackmails the twins with the "child porn" video they made of her, she has them buy her everything she needs from Sephora. This adds a layer of realness often missing from TV glow-ups.
"It's not like, 'wow, she all of a sudden started wearing makeup? She just had all this stuff?" No. As Ariana Grande would say, she saw it, she liked it, she wanted it, she got it.
CASSIE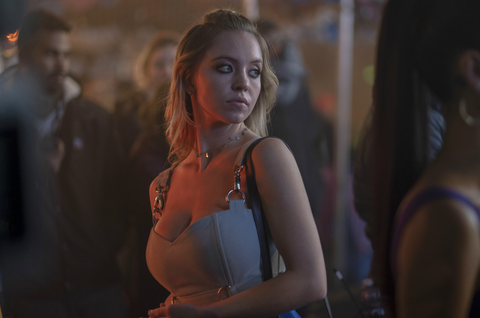 Just because Cassie's (Sydney Sweeney) makeup is less…groundbreaking, doesn't mean it's any less essential to her character. It's just that Cassie look is more geared towards who she wants attract, rather than who she wants to be.
"She's trying to garner interest from male jocks, so her makeup looks a little bit more tailored towards a conventional sexy look," Doniella explains. "She's not pushing back. She's not an artist. She's not pushing boundaries." Instead, she's creating a version of herself she thinks McKay (Algee Smith) would want.
Though Nate is constantly trying to convince his friend that Cassie is a "slut," her look is more angelic with nudes on her lid and dark liner that make her big blue eyes pop. She doesn't want to look like she's trying to hard, even though she is, according to Doniella. There's an image she wants to project: she's girlfriend material.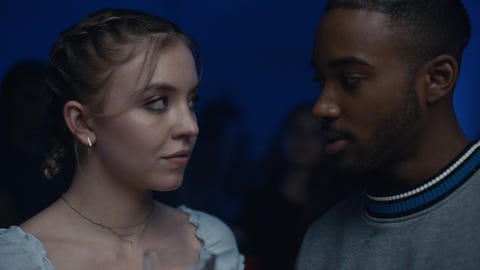 As the series progresses (Euphoria has been renewed for a second season), Doniella is excited to see Cassie become empowered and find herself. "I don't know exactly how yet, but she is definitely gonna have a character transformation. She will move away from trying to impress guys, and what she thinks they want, to the version that's who she really is."
JULES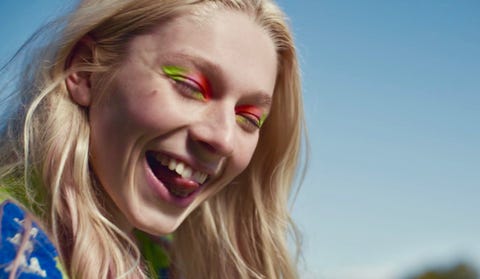 Obviously, I had to save Jules (Hunter Schafer) for last. The new girl in town has been through a lot. We learned in episode four that before her transition, her mom placed her in a psych ward for troubled kids where she self-harmed. As she hit her teens she began experimenting with married, straight, often violent men like Nate's father, Cal Jacobs (Eric Dane). At the same time, she's vibrant and playful and bursting with color. "She is bold and confident and her looks are supposed to be totally cheeky and playful and expressive."
But if you look closely, her makeup can tell you exactly how she's feeling. After a disastrous meet-up with Nate, who was catfishing Jules as "Tyler" on a gay dating app, she's fallen into a relationship with her best friend Rue.
The day Nate gets arrested, she goes to school looking like this: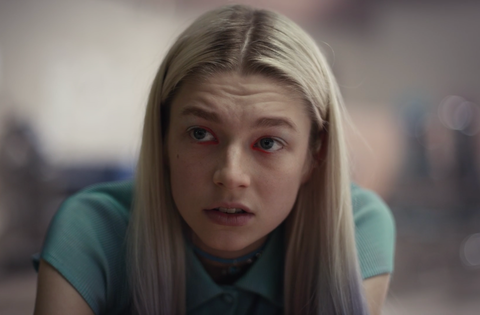 The red corners of her eyes tell a story. "It's not very healthy looking. It's definitely not very pretty," Doniella says. "She's truly shook from what happened at the end of the carnival in the previous episode. At that point she's sick to her stomach." That's exactly when Cal and Nate happen to walk through the cafeteria.
While she's dealing with the fallout of her Jacobs family drama, Jules is also feeling pressure from Rue, whose sobriety so far has hinged on her infatuation with her girlfriend. Doniella shares how Jules' makeup look is a clue to how she's dealing.
Check this pink porcupine look she wore rollerskating with Rue and Lexi: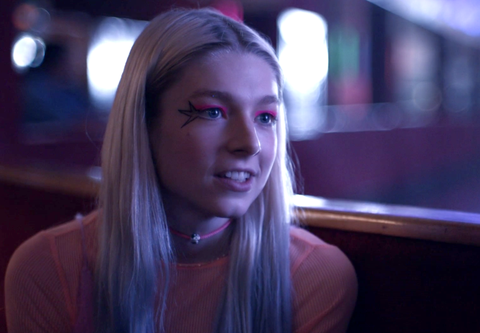 "I wanted something that was fierce and hard feeling, not blendy and pretty and sparkly," Doniella says. She wanted to find a visual way for Jules to put a wall up. "She doesn't really want Rue to come over and spend the night. She's beginning to feel really trapped. That look has this hardness, a spikiness to it."
Compare that to the styles Jules wore when she was texting with "Tyler." They're softer, sweeter. "It can't be really wild and loud, because she's going to meet Tyler, who she thinks is a jock who like lives his public life as a hetero man," Doniella explains. "Her makeup needs to be tender and, like, love me makeup."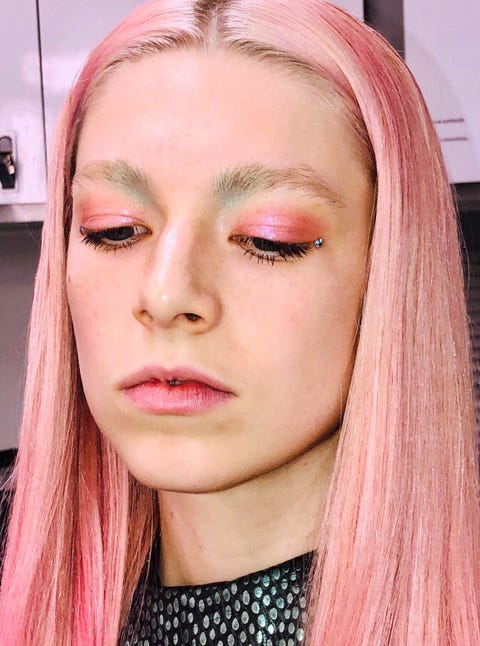 From what we've seen, and what Doniella describes, Jules could be heading for a bit of a breakdown. When I ask her about it, the makeup artist gets a bit coy. "You're gonna see her looks get darker," is all she says. If I were Rue, I'd start paying more attention to Jules' makeup game and step back a little…even though Rules is the best ship name of all time.
Get the Looks
Want Kat's purple lip from episode five? Though Doniella used a mix of hues, she reccomends a high pigment gloss like "Hoochie" Lip Tar by Obsessive Compulsive Cosmetics.
Maddy may experiment with rhinestones and jewels from any old craft store, she only lets the best cream liner near her eyes.
But if you want to get Maddy's perfect cat-eye, it's all about the brush. Doniella and her team swears by the golden triangle collection by Bdellium.
From Rue's glitter to Maddy's rhinestones, lash glue is essential to get a Euphoria look. Though Doniella says any old lash glue would do the trick, she recommends House of Lashes for its strength and comfortable feel.
Source: Read Full Article