'Jersey Shore: Family Vacation': Can Mike Watch the Show While in Prison?
Last night, the world got another glimpse into the crazy lives of the cast of Jersey Shore: Family Vacation. The show's third season premiered, and it's clear that there will be no shortage of drama this time around. A lot of this season focuses on Mike "The Situation" Sorrentino's court case, plus his shotgun wedding to his now wife, Lauren Pesce. But can The Situation watch the show while behind bars?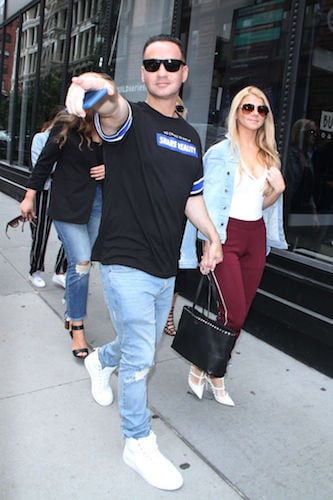 Sorrentino is currently serving eight months in prison
When the original Jersey Shore first premiered, people weren't sure what to think of Sorrentino. He was hot headed and had a bad attitude. Plus, he was the biggest snake in the house. But he was also battling a drug addiction, and he made some bad decisions, including committing tax fraud. According to reports, Sorrentino pled guilty to failing to pay taxes on $9 million in income. He was sentenced to eight months in prison in October 2018, and he surrendered himself on January 15, 2019. He is scheduled to be released on September 12 of this year.
https://www.instagram.com/p/BztPq-YlWzk/
Sorrentino married Lauren Pesce prior to being locked up
After Sorrentino's tax fraud was found out, he decided to work hard to put his life back together. He sobered up and admitted his mistakes and looked at his situation as a chance for him to start over. Sorrentino rekindled his romance with his college girlfriend, Lauren Pesce, who helped straighten him out and keep him on the straight and narrow. (Pesce lost her brother to drugs several years ago.) Sorrentino proposed to Pesce prior to learning his sentence, and when he found out he would be imprisoned for eight months, the two planned a quick wedding — Sorrentino and Pesce were married in New Jersey in early November.
Sorrentino has been using Instagram from jail, which means he can likely watch the show
The most recent season of Jersey Shore: Family Vacation just premiered, and it focuses a lot on Sorrentino's court date and wedding to Pesce. Sorrentino is currently serving time, but he's still been updating his Instagram, which means there's a good chance he's allowed to watch the show's newest season. Pauly D told Us Weekly that Sorrentino is doing well in prison. "You know what, yeah… They like him and he gets his pick of all the food and stuff like that," Pauly D said. On the show, Sorrentino prides himself on being able to eat more than any other cast member.
Fans are hoping he gets out a bit early
Sorrentino appears to be doingwell in jail. His friends have said that he always has a strong mindset andhas kept his positive attitude throughout his sentence. Fans are hoping thereis a chance Sorrentino will be released on good behavior, though there haven'tbeen any reports that this could happen. Regardless, he'll be home in Septemberand once again be reunited with his new wife. Although Sorrentino's jail timewas definitely a bump in the road, he appears to have made a complete 360 fromthe way he was on the original JerseyShore.
Source: Read Full Article