Here's How Much My 600-Lb Life Star Dr. Now Is Really Worth
Thanks to the success of the hit TLC show, "My 600-lb Life," just about everyone in the United States knows about Dr. Younan Nowzaradan. Best known to his fans as "Dr. Now," he takes a no-nonsense approach to weight loss and accountability. On his show — which is filmed at his medical office in Houston, TX — Dr. Now combines calorie restrictions, psychotherapy, and careful exercises to help his patients lose weight…and keep it off. 
Needless to say, this approach has not only made him a hit on television but has made his medical office a hit as well. Patients from all over the country come to Texas to pay a visit to the native of Tehran, Iran, and many more buy his books for their own dose of Dr. Now at home. He even has a Cameo page! 
Keep reading to find out more details about "My 600-lb Life" star Dr. Now and his net worth. 
Dr. Now boasts a long list of business projects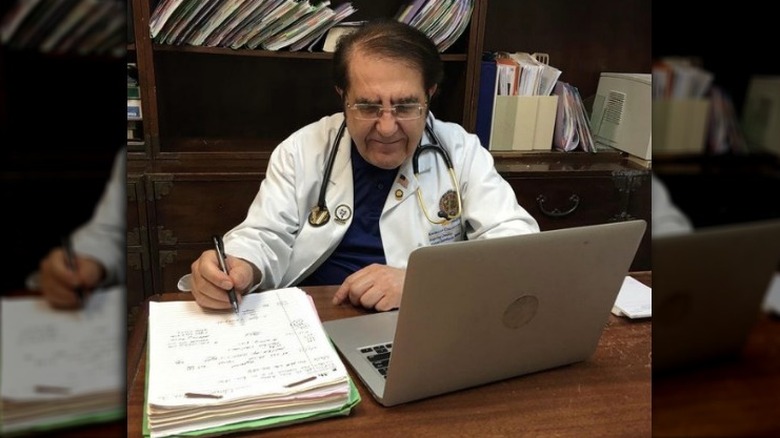 As of 2021, Dr. Now has a net worth of $6 million, according to Wealthy Persons, but that is not confirmed. However, it's probably safe to say most of Dr. Now's net worth comes from his successful television shows. 
Dr. Now's most famous show is, of course, "My 600-lb Life." However, he has also appeared on such other shows as "Half-Ton Teen," "Half-Ton Dad," and "Bodyshock." Other ways that Dr. Now makes his money is, of course, through his medical practice. Though the average salary of a surgeon in Texas is about $261,000 per year, according to ZipRecruiter, and it's safe to say that Dr. Now probably makes more than that. According to his medical office's official website, Dr. Now was at the forefront of laparoscopic surgery for the morbidly obese. What was once considered impossible is now considered commonplace, and that's thanks to Dr. Now's research.  Finally, Dr. Now makes money from a book he wrote called "The Scale Doesn't Lie, People Do," which is based on one of his most infamous catchphrases heard on "My 600-lb Life." 
Of course, the job is about more than just money for Dr. Now. "My job is to find a way to work with them to get their weight to a healthy place," he told People. "They are the patient because they need help and it's my job to help them no matter what."
Source: Read Full Article