'Euphoria': 1 Cast Member Had Their Character Written Just for Them
Winning a spot in the dynamic Euphoria cast is akin to winning the lottery. The talented ensemble cast is comprised of huge names like Zendaya, newcomers like Hunter Schafer, and actors like Maude Apatow, who have experience in the industry but aren't quite households name. However, being a part of the hit HBO series has catapulted all of the actors into new heights.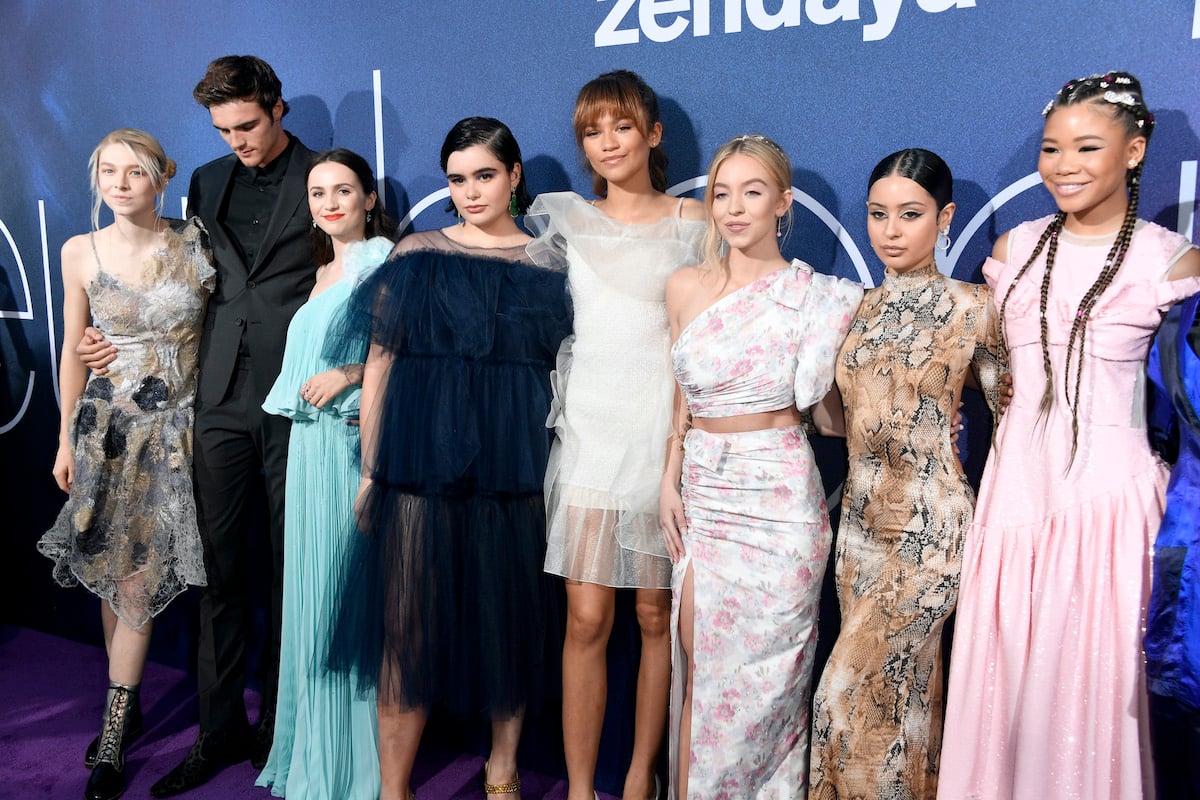 For Euphoria Season 1, there were a variety of different ways that the actors got cast. As Zendaya has already found success prior to the coming-of-age drama series, the role of Rue was pitched to her. Angus Cloud, however, was discovered during street casting. Sydney Sweeney, on the other hand, had a more traditional audition process. Once the role of Cassie was sent to her twice, she put herself on tape and was offered the role soon thereafter.
Sam Levinson wanted Maude Apatow to join the 'Euphoria' cast from the very start
But Sam Levinson, who created and directs Euphoria, had one actor in mind when he first started writing the show. In fact, the writer wrote the role of Lexi Howard specifically for Apatow. Levinson had previously worked with Apatow on his 2018 film, Assassination Nation, and kept her demeanor in mind when he was writing the role of Lexi.
In an interview with IndieWire, Jessica Kelly, who helped cast season 1 of Euphoria, got candid about how much Levinson wanted Apatow to be a part of the show. "It was always Maude," Kelly shared. "Sam fell in love with her, she's so natural, she's vulnerable and quiet. While writing Euphoria she was always in his mind."
Apatow explains how she is similar to and different from her character, Lexi Howard
Apatow is certainly aware of the similarities between herself and her character. In a conversation with Numéro Mag Netherlands, the Euphoria actor shared that it makes it easy for her to jump right into her character. "Sam has always written Lexi's dialogue in my voice, which makes it easy because it feels so natural," Apatow explained. "We are similar in our demeanor, interests, and sensitivity."
But even though Lexi was written with Apatow in mind, the actor was bound to have some differences from her character. Apparently, Apatow views her Euphoria character's personality in a distinct way when juxtaposed with her own. "But I think a lot of Lexi's perspective and the way she looks at the world and approaches relationships is very different than I would," she said. "We're both shy, but she's more passive, and I don't see myself that way."  
Apatow's high school experience was widely different from that of her 'Euphoria' character
Another way that Apatow is drastically different from her character is the way in which they grew up. According to the Hollywood actor, her high school experience was drastically different from what her character experiences in Euphoria. And Apatow is very thankful for that.
"I went to the same small school from Kindergarten through 12th grade, so I think I had a very different experience than the characters on the show," the Euphoria actor shared. "I was lucky to go to a high school that I really liked, where I made lifelong friends. I had teachers who truly inspired me and encouraged me to be a creative person. Without them, I don't know if I would have had the confidence to do it."
We're sure fans of Apatow are grateful that her teachers pushed her to pursue a career in entertainment. We can't wait to see what her character gets up to in Euphoria Season 2.
Source: Read Full Article