'Blue Bloods': When Will Season 12 Return in 2022?
Blue Bloods is on hiatus for the rest of the year. But the season will continue in 2022. This is when it'll return and the guest star appearing in the new episode.
'Blue Bloods' aired its last episode for 2021
The cop show returned, telling more stories about the Reagan family. Erin (Bridget Moynahan) is considering running for District Attorney. Danny (Donnie Wahlberg) still has Maria Baez (Marisa Ramirez) as his partner, but he has also worked with other people like Anthony Abetemarco (Steve Schirripa) in recent episodes. 
Eddie (Vanessa Ray) went through a major change with her partner leaving the job. Her new partner has been difficult to work with, but Jamie (Will Estes) insists that they work together.
The last episode, "Firewall," aired on Dec. 10. In it, Baez and Danny hunted down a killer. The suspect shot at them, and a bullet grazed Baez. Luckily, she made it to the hospital. The whole episode also showed Baez questioning her job, given how things have changed. But it looked like by the end, she wasn't going anywhere.
When will season 12 return in 2022?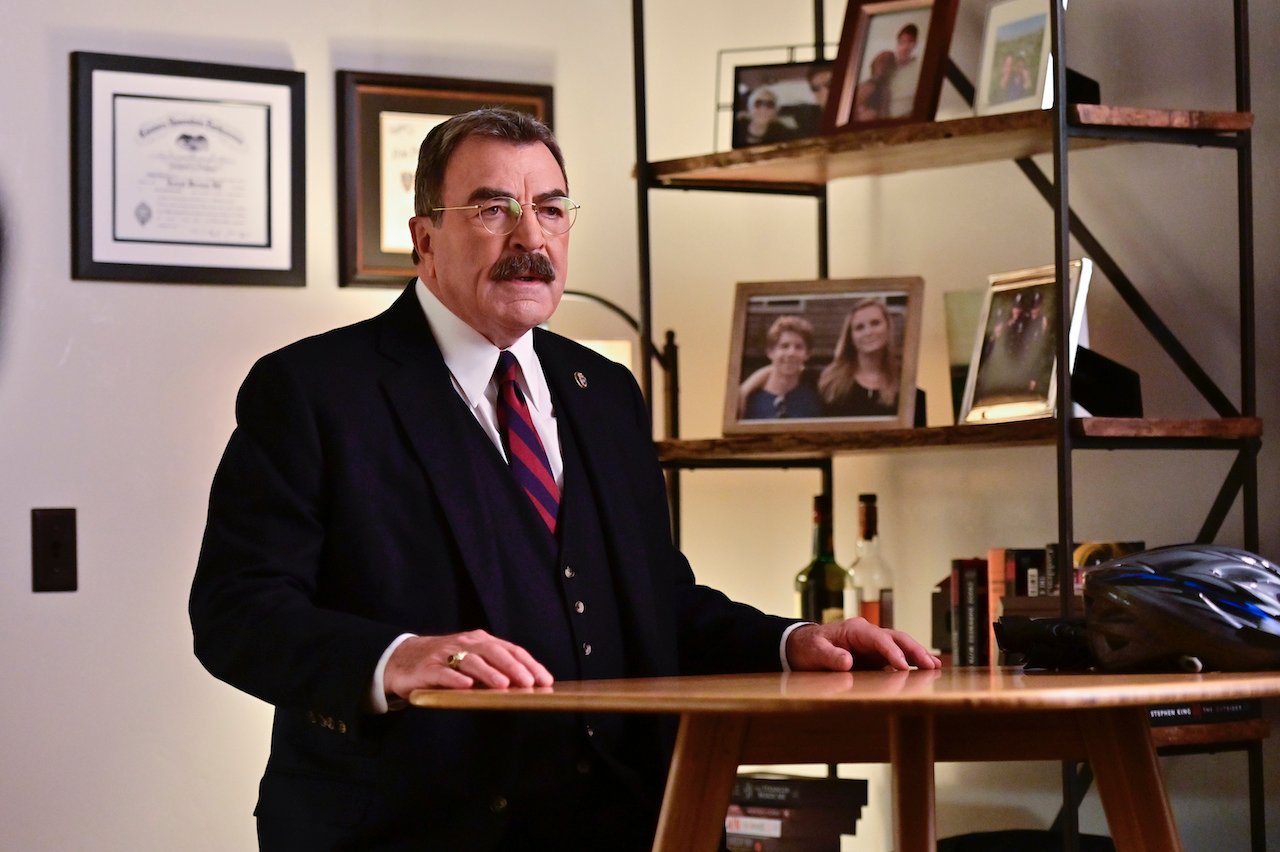 The show is taking a break for the holidays. The next episode will air on Jan. 7, according to IMDb.
The new episode is called "Old Friends." CBS released a press release describing it with "An illegal drug shipment arriving in New York City forces Danny to partner up with his Texas Ranger associate, Major Waylon Gates (Lyle Lovett), to find the narcotics before they flood the streets. Also, Jamie makes a concerning discovery about a former mentor as he helps a neighbor handle a gambling debt, and Frank (Tom Selleck) receives pushback from Mayor Chase over his handling of a brawl between demonstrators and police officers at a protest."
So fans are in store for multiple guest stars. It's still unknown who will play Jamie's former mentor.
This season will have another guest star
The upcoming episode will be Lovett's second time appearing as Waylon Gates. The first time was in season 10, where the Texas Ranger worked with Danny to capture a criminal.
Wahlberg previously posted a picture with Jimmy Buffett, revealing they were filming an episode together. CBS also released a press release describing the episode "On the Arm."
"Danny pursues Dickie Delaney (Jimmy Buffett), a con artist pretending to be the legendary singer Jimmy Buffett, after he's tricked into paying for the scammer's meal at an expensive restaurant. Also, Frank investigates NYPD Captain Terrell (Regina Taylor), who is using her badge to get free wares from local stores; Erin worries about her reputation when she's the subject of a salacious, anonymous police blog; and Jamie introduces a decades-old saluting rule in the precinct," reads the release. That episode will air on Jan. 14.
Source: Read Full Article