Billy Bob Thornton Was So Drunk in 1 'Bad Santa' Scene He Fell Asleep Standing Up: 'I Barely Knew I Was in a Movie'
Billy Bob Thornton is an artist who has worked in a wide variety of genres. An author, performance artist, musician, and actor, Thornton first rose to fame for his work in the critically-acclaim film Sling Blade, portraying Karl Childers. However, a whole other generation of fans knows Thornton for his leading role in the iconic comedy film Bad Santa. One of those movies that made an immediate impact, Bad Santa remains a holiday classic to this day—likely, in some fashion, due to the serious commitment to character that Thornton displayed behind the scenes.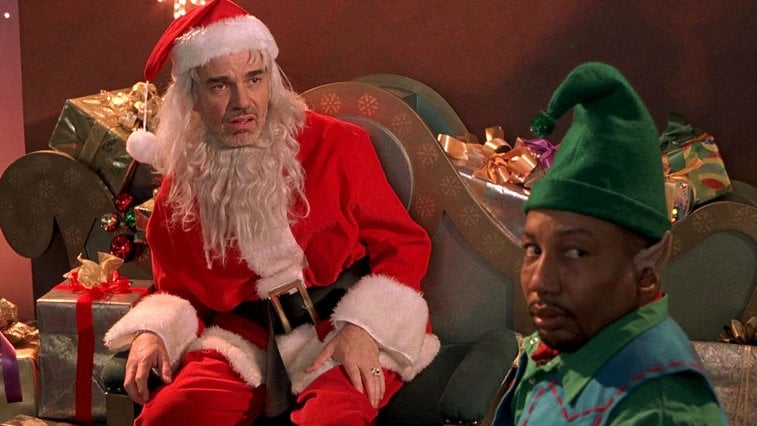 By the time Bad Santa was released in 2003, Thornton was already a major star. However, in his role as a department store Santa Claus who has a fondness for whiskey, Thornton became an even bigger force to be reckoned with in Hollywood. As Thornton once revealed, he got in character by actually imbibing quite a bit before filming started.
As reported by BuzzFeed, Thornton once admitted that there was one scene, in particular, where he showed up completely drunk. It was the scene in which his character has a drunken meltdown at the mall and attacks a decorative donkey. In preparation for that scene, the actor drank three glasses of red wine, a vodka and cranberry juice, and then a few beers. "By the time I got to that scene there, I barely knew I was in a movie," Thornton joked. He also admitted to being drunk for the scene when he rides an escalator, at one point falling asleep while standing up, only to be jolted awake when he reached the top. Ultimately, the take turned out perfect and that was the one that was used in the finished film.
Bad Santa might have been raunchy and themed for adults, but it became an instant success. The film went on to receive critical acclaim, according to IMDb, with Thornton receiving a Golden Globe nomination for his work in Bad Santa.
The movie tells the story of Willie Soke, a professional thief who takes a yearly gig as a department store Santa Claus in order to rob shopping malls at night. Along with his accomplice Marcus, Willie thrives on drinking and stealing and doesn't suffer from any illusions regarding the spirit of the season.
Eventually, Willie's ruse is discovered when he befriends a troubled child, and his con game begins to slowly unravel.
In the nearly two decades since Bad Santa was first released, the film has attracted a major cult following. It has spawned an extended cut release as well as a sequel in 2016. However, many fans believe that the original simply cannot be topped. Those who want to enjoy Bad Santa this holiday season can watch the irreverent flick on Amazon Prime Video, according to TV Guide.
Some other dark comedic gems for the holidays include Scrooged, starring Bill Murray. The film, released in 1988, tells the story of a cynical television executive who discovers the Christmas spirit through rather unlikely means. It is currently available to watch on Amazon Prime Video. For those viewers who like a taste of fright with their festivity, Black Christmas, streaming on Peacock, follows a group of sorority sisters who are stalked by a killer during the holiday season. Funny and frightening, Black Christmas is a hidden gem.
Source: Read Full Article