The Real Reason Drake Kept His Son A Secret For So Long
Like the proud papa that he is, Drake showed off his son, Adonis Graham, at the Billboard Music Awards in May. The three-year-old accompanied his iconic father as he accepted an award on the Los Angeles' Microsoft Theater Stage, per USA Today. The "Know Yourself" singer looked dapper in a white suit and black tie, while his son sported cornrows and a red plaid shirt. Drake, born Audrey Drake Graham, handed his Artist of the Decade award to Adonis and told the world, "For once, I'm sure as hell we did something right." He went on to thank his "beautiful family" as his son clung to his leg. Of course, little Adonis stole the show when the moment became too much for him, and he began to cry. Drake scooped up his son and protectively carried him off the stage. Aww!
Those who follow Drake know that he's tried to keep his son out of the spotlight. Here are two reasons why the star may have been protecting Adonis since his birth.
Drake had a bumpy start to fatherhood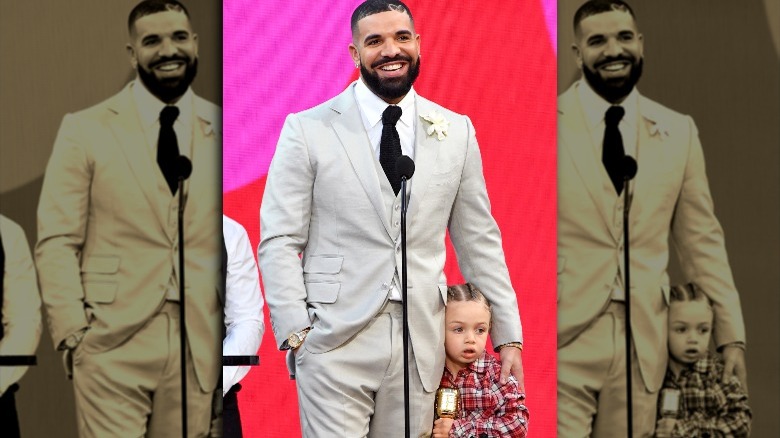 In 2017, TMZ initially reported that French-born former adult film star Sophie Brussaux claimed that she was pregnant with Drake's baby. The Canadian rapper allegedly denied that the baby was his and, according to the outlet, wanted her to "have an abortion" as he texted her, per the outlet. At the time, Drake's people claimed, "This woman has a very questionable background …" Yet, "He would do the right thing by the child."
It seems as if the "War" rapper really wanted receipts. On the Rap Radar podcast, he revealed that the initial DNA tests were a bit of a mess. Apparently, the results showed that he was Donny's dad but the test was damaged in transit, and so it was not conclusive proof. The second batch proved that Drake was Donny's dad. "I was in a really weird pending situation where I didn't want to go tell the world that that was my son and it wasn't," he said (via Lad Bible).
A year after Donny's birth, Drake spoke to LeBron James and Maverick Carter on James' talk show "The Shop" about fatherhood and his relationship with Brussaux as a co-parent. Drizzy explained, "I do want to be able to explain to my son what happened. But, I don't have any desire for him to like not love his mother …" He added (via USA Today), "I want [my son] to love his mother and I have to project that energy."
Drake protected Adonis from the spotlight while he got his priorities sorted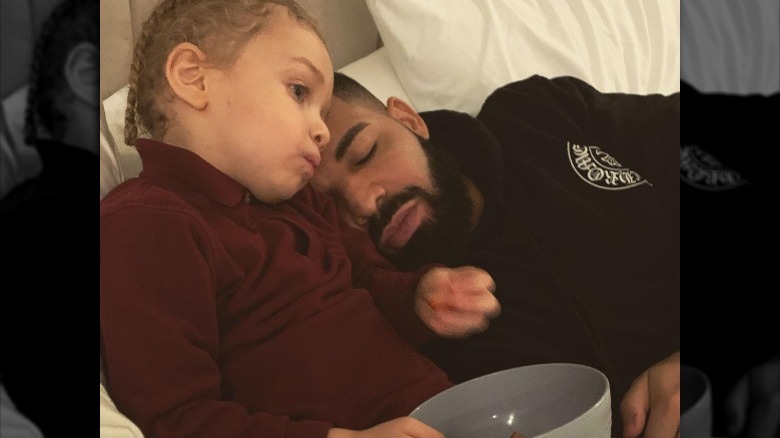 For those who didn't read the TMZ headlines in 2017,  Pusha T then confirmed the news of Drake's paternity in 2018, per Vox. He rapped about Drake's son and taunted Drizzy in "The Story of Adidon" with the lyrics, "You are hiding a child / Let that boy come home … Adonis is your son." It took a while for Drake to respond to Pusha T's allegations, but on "Emotionless," he raps, "I wasn't hiding my kid from the world / I was hiding the world from my kid… Breakin' news in my life I don't run to the blogs / The only ones I wanna tell are the ones I can call." 
Drizzy had been, as he insisted, protecting Donny from the spotlight by keeping the news of his birth quiet. As a man who lives in the public eye, he wanted to shield his son from the media. Ironically, he failed and created a frenzy when Pusha T broke the story. But today, he and Adonis are tighter than ever. How else would you explain the cutest Instagram pic of Drake curled up on Donny's shoulder as they enjoy some father and son time? Drake is copping to his role as a father and we guess what's important is living in the now. 
Source: Read Full Article