The Real Meaning Behind 'Free Promo' By Moneybagg Yo Ft. Polo G & Lil Durk
Born DeMario DeWayne White, Jr., Moneybagg Yo is one of the hottest rappers in the hip-hop industry today. As part of a joint venture deal with Interscope Records, Moneybagg Yo is part of Yo Gotti's record label collective, Collective Music Group (CMG) and the Memphis native has quickly climbed the charts thanks to the success of his latest album, "A Gangsta's Pain."
Despite releasing other albums before "A Gangsta's Pain," Moneybagg Yo's fourth album, released in April, was the first to make him break into the mainstream. It debuted at the top of the Billboard 200 charts off of the success of its first single, "Rookie of the Year." Moneybagg Yo also began making headlines in the gossip blogs due to rumors he was dating Megan Thee Stallion — a claim which Moneybagg Yo fervently denied. He said on his Instagram Stories (via The Jasmine Brand), "IT WAS ALL PUBLICITY."  
But let's put a lid on the relationship drama for now and take a deeper look into the true meaning of his hit song, "Free Promo," off "A Gangsta's Pain."
"Free Promo" is semi-autobiographical in nature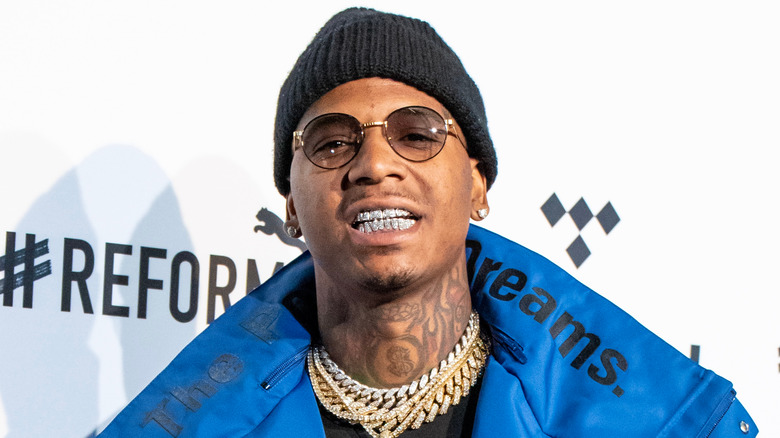 In addition to featuring the talents of Moneybagg Yo, "Free Promo" features the talents of fellow superstar rappers Polo G and Lil Durk.
Like many hip-hop songs, "Free Promo" is a bit autobiographical in its nature. Each of the rappers takes a turn telling a story about his "come-up," or success. The lyrics address such common themes as growing up poor and "in the streets," their road to success, and how people they thought were their friends turned out not to be. "How the f–k you say you real when everything I see is cap?" is a lyric that Moneybagg Yo repeats in the chorus of the song, and it means "how can you tell me you're the real deal when everything I see about you is fake?" This is yet another theme common in rap songs today: people "flexing" for social media clout and popularity. Moneybagg Yo is proud of the tune, telling HotNewHipHop the song was one of the eight songs on the album that reflected "pain." He also shared, "It's crazy, I tapped into the melody side on that one too."
Ultimately, "Free Promo" is all about Moneybagg Yo, Polo G, and Lil Durk recognizing who they are and where they came from — and not worrying about what people think of them because they'll get publicity for their projects regardless. 
Source: Read Full Article