Billie Eilish Covering Justin Bieber Is Better Than Justin Bieber
In case you haven't heard, 17-year-old emo-pop icon Billie Eilish is on the damn cover of Elle magazine's 2019 Women in Music issue along with Lizzo and Camila Cabello. Talk about three queens.
Billie told Elle all about her music, but she also opened up about her style and the world's ridiculous obsession with her body. She warns that she might change up her look when she hits 18. "I'm gonna be a woman. I wanna show my body. What if I wanna make a video where I wanna look desirable?" she asks.
https://www.instagram.com/p/B2B4jmen-HU/
Well, Billie can do whatever the fuck she wants, but right now, the only video I want to talk about is her episode of Elle's YouTube series Song Association (don't worry, Lizzo made one too).
First of all, she does the whole damn thing in the chicest sleeping bag I've ever seen in my entire 27 years on this earth. And this green part? BRB, I have a hair appointment to make.
So, the rules of the game are as follows: Billie's given a word and she has 10 seconds to sing that word in a song. The game originally went viral when Ariana Grande played back in July 2018.
Billie doesn't seem to take the game very seriously after tanking the first word, "dance," and then mumbling the lyrics to her own song "Lovely." She performs the most lackadaisical cover of "Party in the U.S.A." I've ever heard, saying that she used to think singing "It's a farty in the U.S.A." was "so funny."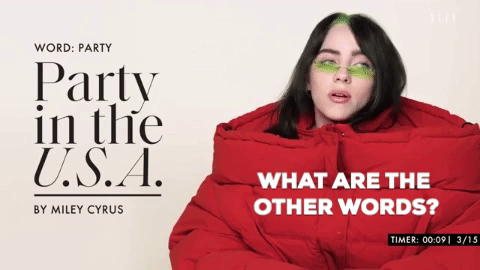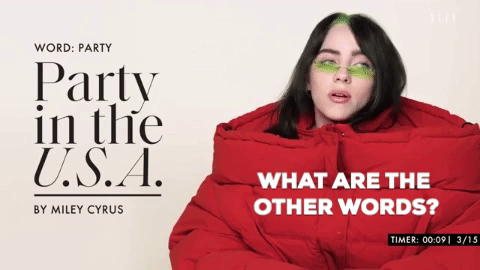 It starts to pick up when she gets to the word "gone." She sings a line from the H.E.R. song "Gone Away" that will honestly melt your cold heart. It's all over from there. She sings and raps "Beauty and a Beat" by Justin Bieber feat. Nicki Minaj, "Complicated" by Avril Lavigne, and a few of her own hits. But the real showstopping moment comes with the simple word "when." If you don't get chills watching Billie sing "Creep," I honestly don't know why you're even reading this.
Frankly, the best part of these videos is learning what songs your faves are listening to, especially when they're tracks you'd least expect. Without further ado, the only Billie Eilish playlist you need: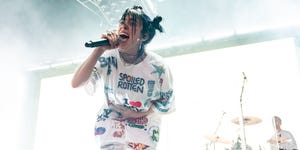 Source: Read Full Article