The Most Expensive Outfits Alexandria Ocasio-Cortez Has Ever Worn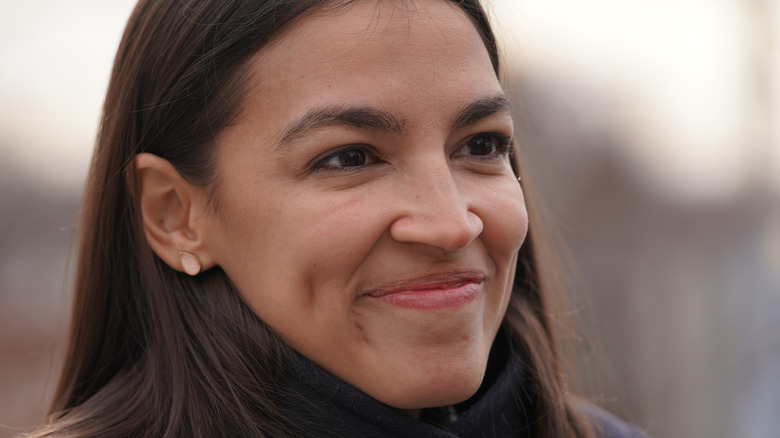 Alexandria Ocasio-Cortez — or AOC, as she's often referred to — is a U.S. representative for New York's 14th congressional district. She's had a stunning transformation, becoming the youngest woman ever elected to Congress in 2018, and her strong democratic socialist views often put her at the center of political controversy and discussion.
Since she entered into the political sphere, Ocasio-Cortez's clothing has been a recurring point of conflict. Supporters seem to love her iconic red lip and colorful suits. Big moments, like when she wore a red blazer to defend herself against Republican Ted Yoho or when she wore all-white for her swearing-in as a nod to suffragettes, have been discussed for their meaning. However, other outfits like those worn on TV and for magazine shoots have been criticized for their expensive price tags. 
So, exactly how pricey are these outfits that have attracted so much controversy? We've found some of the most expensive fashion pieces that AOC has ever worn — from power suits to sequined dresses — to get to the bottom of that. 
AOC wore this pricey sequined dress on The View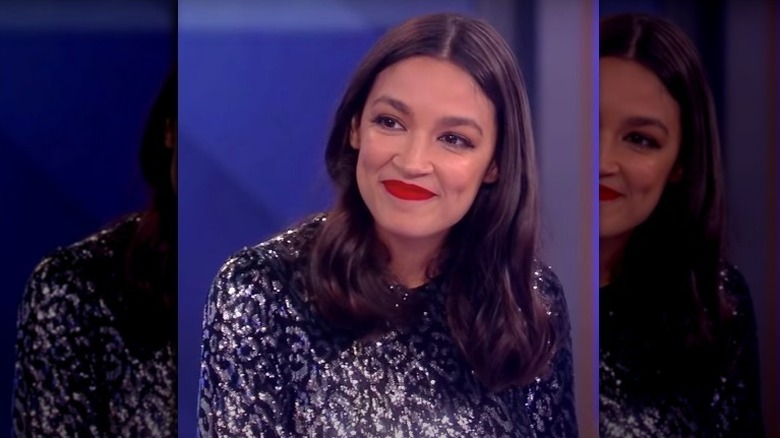 Alexandria Ocasio-Cortez was invited as a guest on "The View" in February 2020. The New York congresswoman traded her usual, tailored business style for a leopard-print sequined dress on the show. According to The New York Post, the luxe Rickie Freeman design was originally $580, though it went on sale for $232.
Ocasio-Cortez may have looked glamorous in the pricey dress and her signature bold, red lip. However, not everyone was a fan of her fashion choice. Critics found it hypocritical for the progressive politician to shell out money for expensive designer threads while being such a loud voice against income inequality. One tweet read, "Don't you love it when an avowed SOCIALIST wears $580 dresses from Rickie Freeman? I mean, who doesn't need a sequin leopard dress to be an effective Congresswoman?"
Ocasio-Cortez was quick to respond to those critiques and used the opportunity to advocate for some of her political stances. In a tweet responding to the New York Post article, she said, "Yep! I rent, borrow, and thrift my clothes. (It's also environmentally sustainable!) The Post is just mad that you can look good fighting for working families. Sequins are a great accessory to universal healthcare, don't you agree?"
Alexandria Ocasio-Cortez responded to backlash after sporting this green suit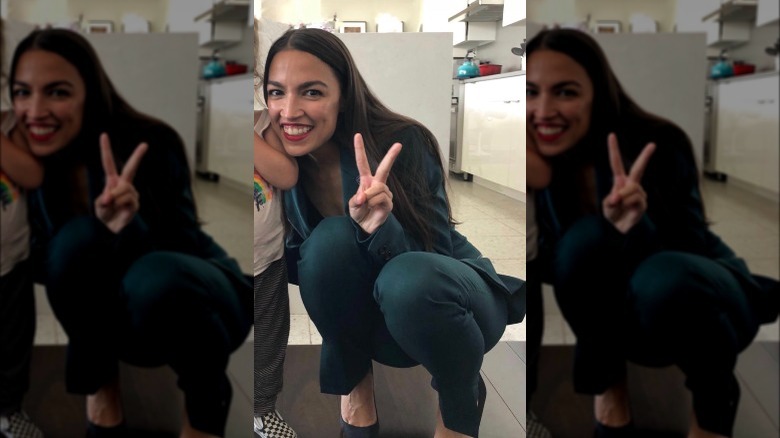 Alexandria Ocasio-Cortez came under fire again for her fashion choices when she wore a green blazer and matching trousers for Interview magazine. The tailored suit was designed by Gabriela Hearst, an Uruguayan designer who strives to create clothing sustainably. Altogether, the look was quite expensive, with the fitted jacket alone originally priced around $1,500. The pricey suit was matched with a pair of black Manolo Blahnik pumps for over $600. The New York Times estimated the entire look cost $3,500.
One of the outfits' naysayers, Charlie Kirk, took to Twitter to say, "Alexandria Ocasio-Cortez, who pretends to be a champion of the people … Just posed in a photoshoot with a $3,500 outfit, $625 shoes all while saying the rich have too much power and that socialism hasn't been tried."
AOC responded to Kirk directly in a snarky tweet, saying, "The alt-right doesn't seem to understand the concept of magazine shoots." She pointed out in the same tweet that she did not own or keep the clothes that she wore for the magazine. As with most photo shoots, the outfit was only lent to her by the magazine.
She wore this designer dress and matching lipstick for her DNC speech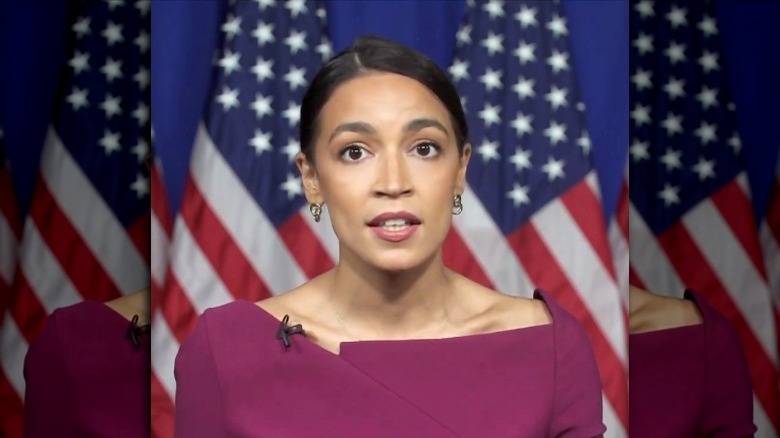 Alexandria Ocasio-Cortez wore a magenta dress with a boat neck during her speech at the 2020 Democratic National Convention, where she put forth her support for Bernie Sanders' presidential campaign. Though AOC never gave the specific details of her outfit, it appears to be this currently sold-out asymmetrical dress by Roland Mouret. Similar dresses by the same designer are sold for around $2,000.
Instead of her signature red lip, AOC wore a dark pink lipstick that matched the color of her designer dress. The shade got lots of attention from viewers. One Twitter user asked, "Okay, @AOC, I've been dying to ask you a girl-to-girl question –what color lipstick were you wearing last night, and who makes it? I'm OBSESSED with that color!" The congresswoman is no stranger to sharing her beauty secrets. She once did a video with Vogue, going through her entire beauty routine, including her go-to red lipstick. And, she was also happy to let Twitter know that she'd worn Tarte's matte lip tint in envy for her DNC speech. So, you can easily copy the sophisticated look.
AOC wore this white suit for Vanity Fair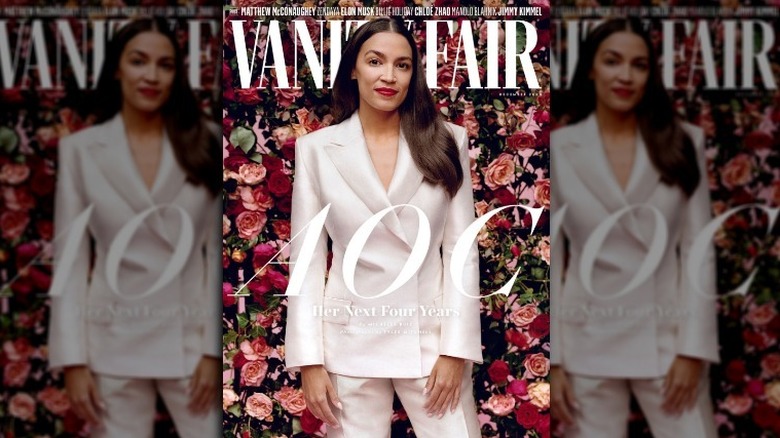 Vanity Fair featured Alexandria Ocasio-Cortez on the cover of their December 2020 issue. The congresswoman posed in front of a pink and red floral background for the cover shoot while wearing a white suit by the New York-based fashion brand Aliette. According to The Cut, Vanity Fair selected the label in part to feature the black designer Jason Rembert. "I wanted to bring attention to designers of color," said the magazine's fashion director Nicole Chapoteau. "I also wanted to show that you can be a powerful woman in politics and still look incredibly fashionable." While we can't know precisely how much a custom piece like this costs, a blazer by the same designer is around $1,700, and the matching trousers are almost $800.
Though the suit was only lent to Ocasio-Cortez for the magazine shoot, some still didn't think the politician should be wearing such expensive clothing. Political commentator Sunanda Vashisht tweeted that all the clothing worn in the magazine shoot totaled an estimated $14,000. "So happy that AOC is upholding the long-established hypocritical tradition of Socialists who believe Socialism is for poor while they enjoy the fruits of Capitalism," Vashisht said. In a follow-up tweet, she continued, "She is a politician not a professional model who cannot have a choice on clothes for a photo shoot. Why not wear clothes [the] working class wears?"
Alexandria Ocasio-Cortez defended wearing this expensive polka dot dress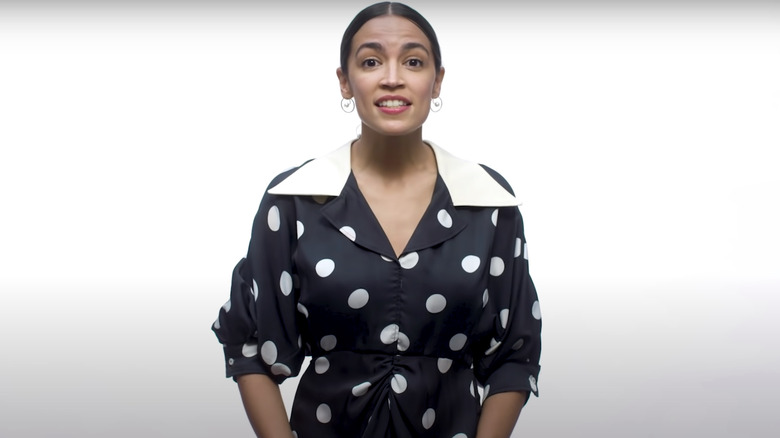 As part of the same controversial Vanity Fair article that she wore the Aliette suit for, Alexandria Ocasio-Cortez also wore a navy blue polka dot dress with a wide collar by Wales Bonner. She had on the adorable dress in a YouTube video posted by Vanity Fair in which she detailed what she does in a day, from her morning routine to right before she falls asleep.
Though the exact dress worn by AOC is sold no longer available, a similar polka dot number by the same designer cost $630. The designer dress was factored into the $14,000 total cost that sparked debate over AOC's Vanity Fair outfits. However, Ocasio-Cortez didn't seem to let the backlash get her down. In a response to Fox News host Laura Ingraham who had criticized the expensive wardrobe, AOC said the Vanity Fair shoot was "100% worth it, would do it again." In a second tweet, AOC also reminded Ingraham that she does not own the clothes from the photoshoot.
Source: Read Full Article