From Normal People to the Oscars: Paul Mescal has been working things out
By Douglas Greenwood
Paul Mescal, who became a sudden sex symbol with Normal People, stars as another psychologically complex character in Aftersun.Credit:Tom Jamieson/The New York Times
Appendicitis helped Paul Mescal to slow down.
Since the start of last year, the Irish actor has crisscrossed continents, attending film festivals in support of his latest feature, Aftersun, and shooting projects in England and Australia. But an illness in November was "a blessing in disguise", he said in an interview at a London hotel, since it meant he got to spend a week at home with his family.
It's not the first time the actor, 26, has been grateful for a break.
Mescal has been working consistently since 2020, when his first television role, as Connell in the TV series Normal People, earned him an Emmy nomination and sudden status as a sex symbol.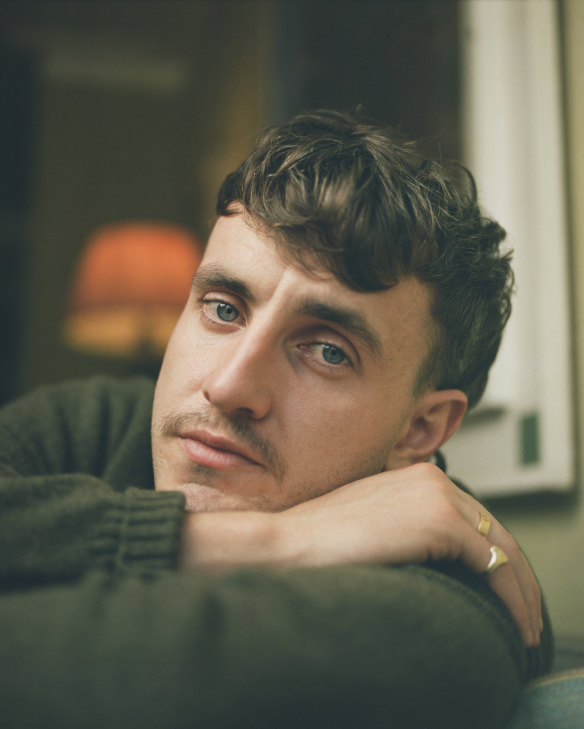 Paul Mescal: "I just feel protective of how the space for smaller films is shrinking and shrinking. That depresses me."Credit:Tom Jamieson/The New York Times
The show, adapted from Sally Rooney's bestselling novel, arrived just after the start of the coronavirus pandemic. During the following months of lockdowns, Mescal became uncomfortable with the tenor of the attention he was getting. Paparazzi followed him around London, and in interviews journalists asked him questions such as whether the show helped him "get laid". Mescal deleted his social media accounts and left London.
Talking about being objectified is "really tricky", he said, acknowledging that the experience is well known to many women in his industry, and can have higher stakes for them. Now, a couple of years after this first burst of fame, Mescal feels "like the ground is tenuously below my feet".
He has thought carefully about the projects he's chosen since, avoiding the blockbuster films that actors often land after a high-profile breakout role. Instead, he has sought out broken or emotionally complex characters, and prioritised working with directors he admires over the size of the part. Aftersun is his first lead role since Normal People.
Mescal with Daisy Edgar-Jones in Normal People.
In the film, director Charlotte Wells' debut, Mescal plays Calum, the 30-year-old Scottish father of 11-year-old Sophie (Frankie Corio). They spend a week at a Turkish holiday resort together, playing snooker and water polo, and singing karaoke. The film is guided by their conversations, and also captures how Calum shields his daughter from his depression.
In Normal People, Connell also struggled with his mental health, seeking therapy to help him process his emotions. Mescal said he recognised that for many men "there is something traditionally terrifying" about being frank about your feelings.
Before recently starting therapy, Mescal worried that he was going to "ruin" his acting work by rechannelling his emotional turmoil away from his performances. But "that's an unhealthy way to live," he said.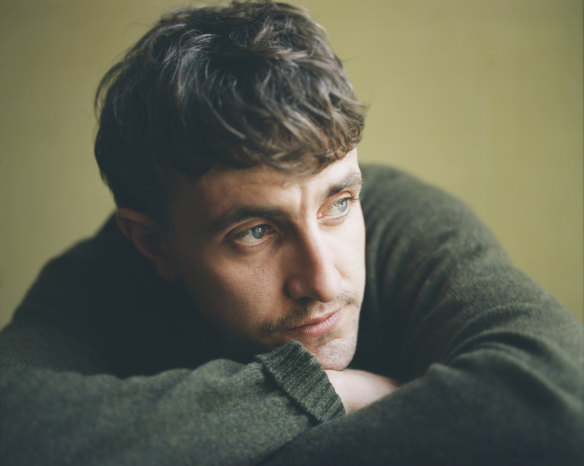 Mescal feels "like the ground is tenuously below my feet".Credit:Tom Jamieson/The New York Times
As Calum, Mescal "tenderly realises the complexity" of a character who is "wading through wells of quiet anguish", filmmaker Barry Jenkins, who produced the film, wrote in an email interview.
The film was shot in two specific rhythms, Mescal said: the father and daughter sequences, which were "really fast and fun," and the scenes that didn't require Corio to be on set, where Calum is alone and suffering.
"I found the private moments really upsetting," Mescal said. In one of those scenes, Calum sits naked on a bed at night, crying intensely. "I know we're shooting on film," he recalled telling Wells on set, "but I think we should run for as long as possible, because once it starts it'll be hard for me to stop."
Frankie Corio (left) with Paul Mescal in Aftersun.
A hit on the 2022 festival circuit, Aftersun has earned critical acclaim: Writing in The New York Times, critic Manohla Dargis called it "one of the strongest movies" she saw at this year's Cannes Film Festival, where it premiered in May.
The script draws on Wells' own experiences, and she wrote it in sections. The difficult subject matter meant that when it came time for casting, she hadn't read the script through in full. But Mescal had, three times, before their first phone call, Wells said, a show of commitment she found "inconceivable" at that point in the production process. During the call, Wells saw a "drive to be good" in the actor, she said, and remembered hanging up and feeling "that rush of knowing you've just found someone great".
Although Wells likes being in control on set, "I love the point where you cede that control to the collaborator to elevate that part of the process," she said. "Paul was always someone that I could trust to do that."
Mescal was born in Maynooth, a college town west of Dublin, in 1996. His mother is a member of Ireland's police service and his father is a primary schoolteacher, who acted when Mescal was younger.
Growing up, he loved playing Gaelic football, an Irish variation of soccer, until a role in his high school's musical led to him playing the lead in Phantom of the Opera. In his final year, Mescal eschewed a career that would allow him to keep playing professional — if unpaid — Gaelic football, and instead applied to drama school.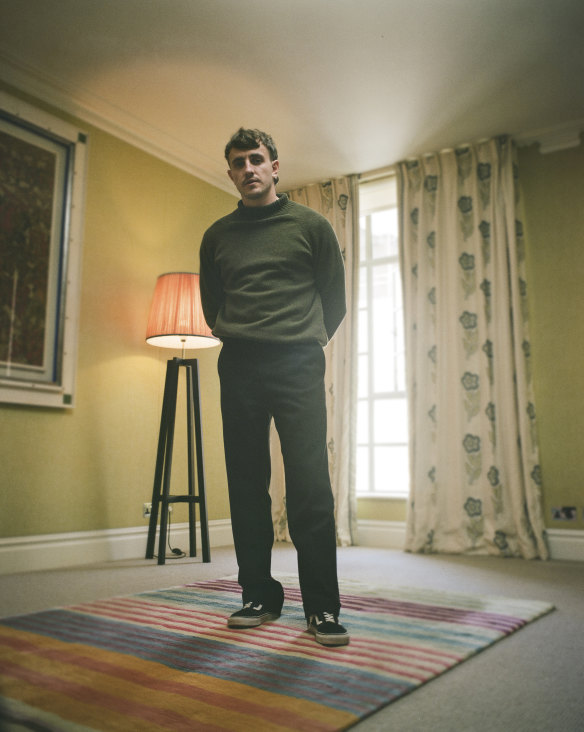 "When he's in, he's in. It becomes his whole world," says Saoirse Ronan of working with Mescal.Credit:Tom Jamieson/The New York Times
The Lir Academy, in Dublin, accepted him before he got his final exam results, based on his audition alone. Mescal's parents were supportive of his career choice, which was "an immense privilege", he said. In an email interview, Olivia Colman, his co-star in 2021's The Lost Daughter, wrote that "He's grounded and clearly comes from love."
Along with his family, Mescal now has even more stabilising elements in his life. They are his structure, he said.
Mescal's slate of forthcoming onscreen projects, which includes the gay World War I romance The History of Sound and British director Andrew Haigh's Strangers, is still lacking in big blockbuster titles.
He has read the scripts for films of that calibre and budget, he said, but is thinking strategically about the future. He wants films like Aftersun to be his foundation.
"I just feel protective of how the space for smaller films is shrinking and shrinking. That depresses me. So how do I strike a balance between my political ideations toward the world of film – which is in a very precarious place – versus doing an action film or a spy thriller?"
The closest he has come to making genre fare so far is Foe, a Garth Davis-directed feature Mescal described as a kitchen sink drama with sci-fi elements. He shot it in Australia last year with another Irish actor, Saoirse Ronan; the pair play husband and wife, and share almost every scene together.
"When he's in, he's in," Ronan said of working with Mescal. "It becomes his whole world. But at the same time, Paul never disappears."
Aftersun is in cinemas now.
This article originally appeared in The New York Times.
Find out the next TV, streaming series and movies to add to your must-sees. Get The Watchlist delivered every Thursday.
Most Viewed in Culture
Source: Read Full Article