Why Can't We Have Consecutive Black Bachelor Leads If That's What Fans Want?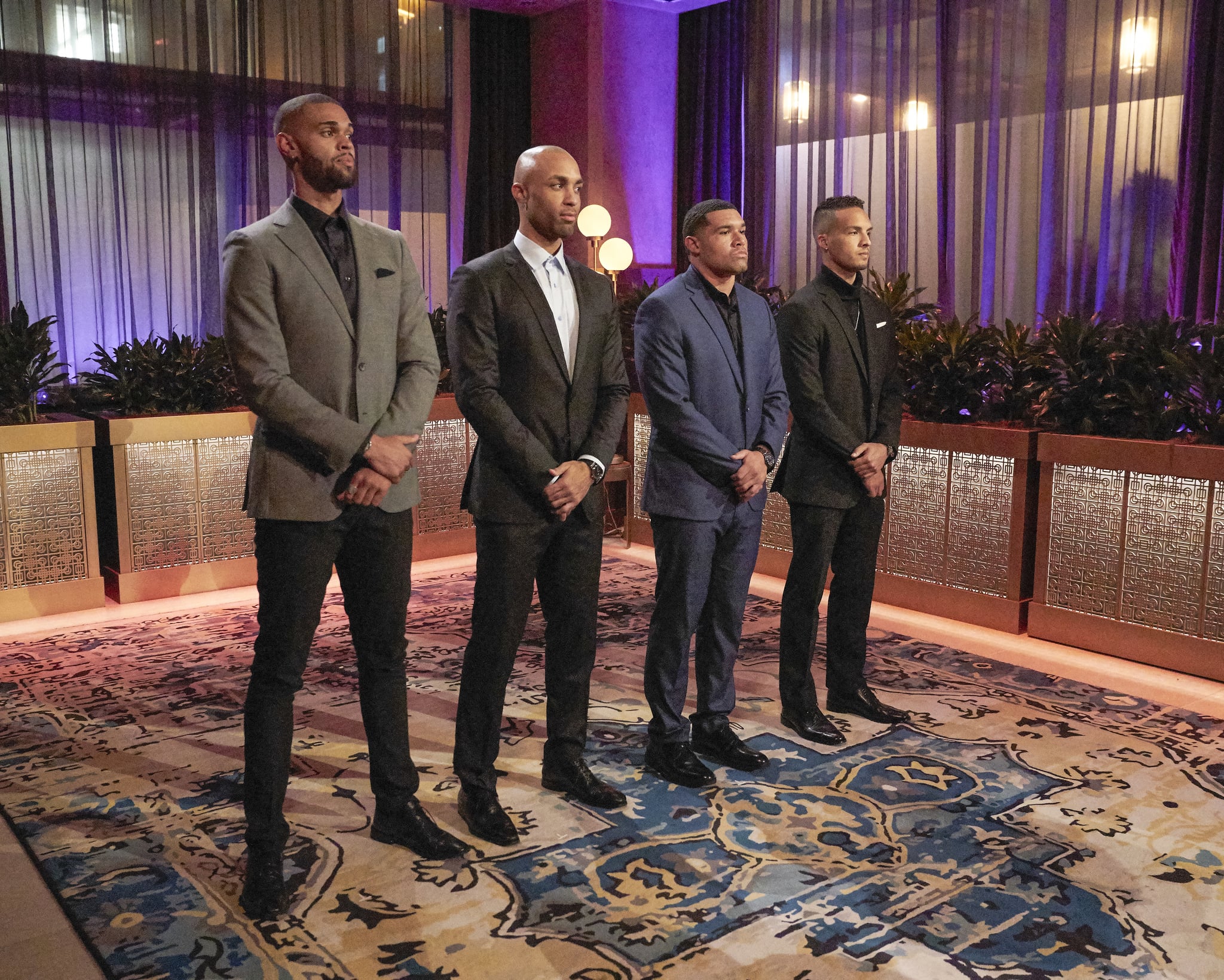 The Bachelor has long been plagued by the lack of diversity in leads and in contestants — an issue ABC tried to tackle in 2020 amid a spark in racial reckoning. Police brutality against Black and Brown bodies in the US and around the globe was spotlit. Increased protests calling for justice and equity also sparked more nuanced conversations about race, racism, and diversity and inclusion. This all coincided with the coronavirus pandemic, causing some white people to use the stay-at-home orders to learn more about how to be a better ally. So, how did this affect The Bachelor?
Here's a quick recap. Fans amplified remarks pointing out the show's lack of diversity since it first premiered in 2002. In 2017, Rachel Lindsey was the franchise's first Black lead on the ABC show. Amid scrutiny of The Bachelor franchise, Matt James, a friend to Tyler Cameron who was on Hannah Brown's season of The Bachelorette, was abruptly cast as the 2021 lead. Considering he had never been a part of the franchise, the timing of his casting as the first Black lead of The Bachelor was questionable. The casting screamed insincere — especially because it was in June 2020, prior to Clare's season of The Bachelorette. While ABC didn't outright say that they cast Matt in response to calls for diversity, it's a fair assessment. It also put immense pressure on Matt to represent the whole Black community. "I felt that pressure — I'm not going to lie — initially," he told Variety ahead of the premiere. "I can't be a version of myself that someone wants me to be because that wouldn't be authentic, and the theme for me this whole season was just to be real and be authentic, and that's what I did . . ."
In June 2020, Former Bachelor and Bachelorette casting producer Jazzy Collins candidly expressed, "I am happy to see that a Black man was cast after 18 years and 40 seasons. I believe it is a step in the right direction. I would be remiss to not point out that based on the current climate, it feels like a knee-jerk reaction and a result of societal pressure. This announcement, without any further commitments regarding diversity, sweepingly brushes deeper issues under the rug."
His season was then overshadowed by resurfaced images of his top three contestant Rachel Kirkconnell showing her at an antebellum party in 2018 and wearing Native American attire as a costume in June of 2020. She later apologized. The Bachelor's then-host Chris Harrison jumped to her defense. He later said in a statement that he apologized for "wrongly speaking in a manner that perpetuates racism." Harrison eventually stepped down as host after calls for his firing.
Fast forward: Clare Crawley, a Latina woman, was cast as The Bachelorette, followed by Tayshia Adams who became the series' second Black female lead, then Michelle Williams, the series' third Black female lead. The women are so much more than the racial diversity they brought to the franchise, but it was refreshing to see POC in their position and the wide array of contestants cast.
Michelle's top four — Joe Coleman, Brandon Jones, Rodney Mathews, and Nayte Olukoya — marked the first time in the history of The Bachelor franchise that had all biracial Black men. "I'm proud to be a part of this moment and to be able to stand beside three men whom I admire. Spoiler: These guys are even more genuine than they appear on TV," Nayte wrote in a statement. He added that while it isn't an "earth-shattering historic event," he was "simply thrilled that people, especially POC, can keep watching Michelle be the strong, confident, intelligent, brave, outspoken, and direct role model that she is, and get to continue watching her love story play out with four stand-up gentlemen of color!" It was a genuine result of who Michelle felt her heart was headed.
So, when Clayton Echard was announced as the next Bachelor, we were all a bit confused. Sure, he's got a great personality and good looks, but I was rooting for Rodney or Olu Inajide to take the lead role in season 26. A lot of Bachelor fans were. Then, the theories started floating in. I, along with other Black fans of the ABC series, had the same thought: of course they're not going to cast Black Bachelor leads back to back. There are too many tweets to count on the matter.
We have to challenge this notion that we can't have POC leads back to back. Otherwise, the uptick in diversity that ABC implemented in 2020 will continue to be a performative bandaid. It's giving tokenism. Viewers put pressure on ABC to implement more diversity on the series in 2020 by simply expressing their thoughts on Twitter. That ricocheted into Bachelor franchise contestants and leads reflecting on the show's issues with diversity and speaking out. It opened up a dialogue. Rachel ended up being a martyr, unfairly, to the point that she announced in April 2021 that she would be "stepping away" from the Bachelor Happy Hour podcast. She would later pen a lengthy article for Vulture in June 2021 to discuss the "toxic" culture surrounding the show. "You have no idea what it feels like to be the first person representing Black people to your lily-white audience," she wrote, adding that she felt pressure to be a "good Black girl, an exceptional Black girl."
If viewers remember, Rachel also had to deal with contestant, Lee Garrett, who would often instigate fights with his Black castmates. Shortly after her season ended, racist tweets of his were uncovered. "I make jokes when I'm uncomfortable in inappropriate times. It doesn't always come off right, and I definitely learned that about myself," he said in response.
In Rachel's Vulture essay, she addressed the casting of Lee. "There's always one storyline that causes drama each season, and for their first Black lead, they allowed it to be a racist one," she wrote. "They chose the low-hanging fruit. It told me everything I needed to know."
At this point, accountability isn't about boycotting the show if you're a fan (problematic issues aside). It also punishes women like Michelle, Clare, and Tayshia who are diverse and had a wide array of contestants. Those contests deserve their social media sponsorships too! If you know you know. But, we should push for more diversity online — shoutout to The Blckchelorettes. That issue isn't closed just because of the recent casting. ABC also needs to listen to its Bachelor fans more. In 2017, we all wanted Mike Johnson from Rachel's season to be cast as the next lead. We weren't heard. Things eventually turned around the corner three years later, because of outrage online.
In former casting producer Jazzy's open letter last year, she also unveiled disturbing details about the franchise. "Women with afros, braids, locs, etc; weren't even given a chance because of the white standards of beauty," she alleged, adding that "ethnically ambiguous" people of color were favored. In her Instagram post, she also reflected on the fact that production and the casting teams are predominantly white. "You're expecting a white team to be able to intimately produce people of color on an emotional level that they're truly unable to relate to," Jazzy wrote.
During Matt's season, the active cast members spoke out on the series' issues with POC. "We are the women of Bachelor Season 25. Twenty-five women who identify as BIPOC were cast on this historic season that was meant to represent change. We are deeply disappointed and want to make it clear that we denounce any defense of racism. Any defense of racist behavior denies the lived and continued experiences of BIPOC individuals. These experiences are not to be exploited or tokenized," the wrote in an open letter following Rachel's scandal.
They also stood up for Rachel, whose comments section on Instagram quickly turned ugly. "Rachel Lindsay continues to advocate with 'grace' for individuals who identify as BIPOC within this franchise. Just because she is speaking the loudest, doesn't mean she is alone. We stand with her, we hear her, and we advocate for change alongside her," the group of women said. Yes, yes, yes!
Clayton's upcoming season begs me to ask the question: why can't we have consecutive Black Bachelor leads if that's what fans want? Out of 25 seasons of The Bachelor, 22 leads were white. I'd also love to see an Asian lead, an Indian lead, a Native lead: the list of POC goes on. This is not an erasure of white men, but a celebration of marginalized daters previously left out. I want to see them!
Source: Read Full Article