We Tried The Celebrity Spin Class That Americans Are Obsessed With
Hey, I'm Josie and I love spinning. I go twice a week most weeks. I love it so much that when I heard that SoulCycle, the cult American spin studio, was coming to the UK, I dragged my colleagues along for the ride. Literally.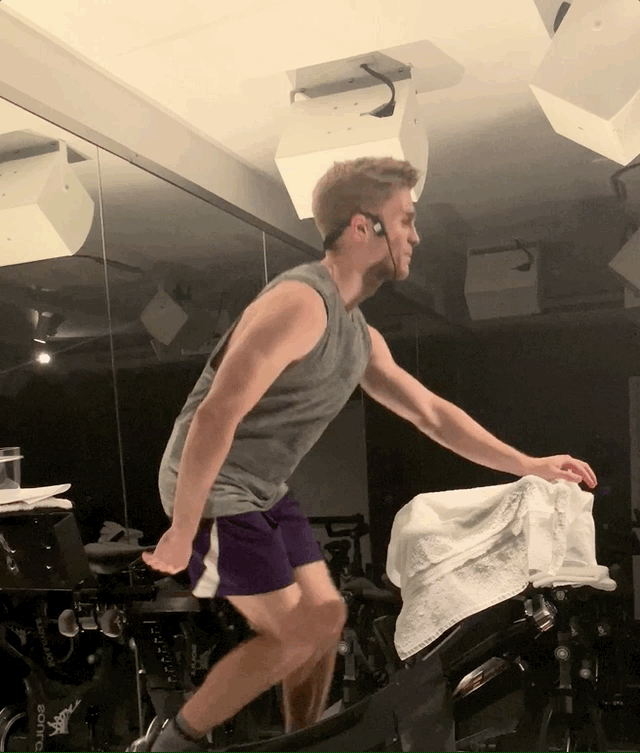 Hanifah: The class was great, but if I'm honest, there wasn't too much that was uniquely SoulCycle. That doesn't mean I didn't love it though – I was a big fan of the candle shrine – it gave it a calming vibe. I really liked the instructor, he was motivational without being obnoxious. I appreciated the fact that he encouraged everyone to go at their own pace, because I know that these classes can get competitive at times. I loved his music – he started off with Beyoncé's "Countdown," and when that began I knew I'd gone to the right class.
Sam: I thought Josh was good at reminding us we didn't need to keep up, which I needed to hear as I was worried that I wouldn't be able to (which tbf was partly true). The room was insanely warm, and I'm NGL, it would have more pleasant in a cooler environment. I could do without all the motivational speeches, but I liked the fake candles. Music was great – a real mix of pop and indie remixes. I didn't see any real difference between SC or doing a cycle sesh at my gym though.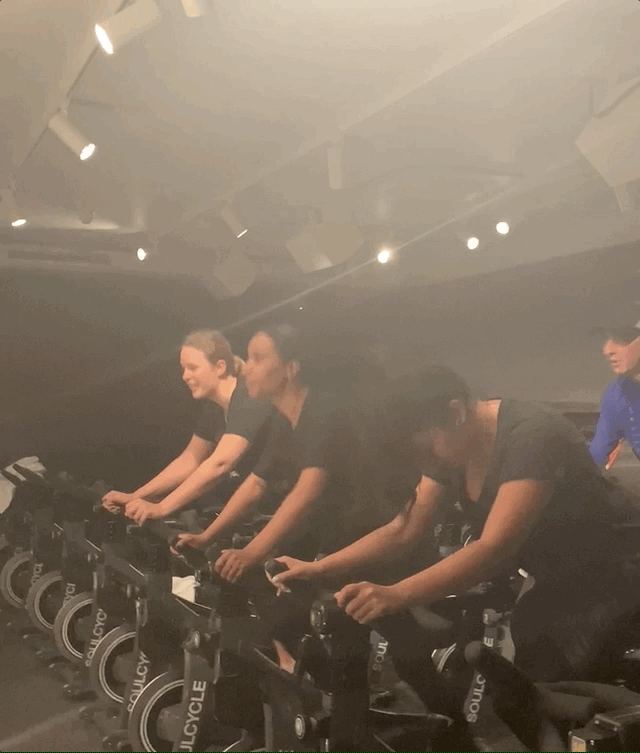 I whip my hair back and forth.
Josie: I love Psycle because I always come out feeling really positive and on a bit of a natural high. I've managed to narrow down the list of instructors to the ones that I like and I'll always try to book classes with. I know that they will play the music I want and that I'll come out feeling on top of the freaking world. SoulCycle gave me the same good vibes. The music was great with the soundtrack flitting between Ariana Grande, Beyoncé and Temper Trap, and the crowd was clearly feeling it. Josh was the right side of motivational without being overly cheesy. The seats of the bikes were also the comfiest spinning seats that I've sat on too which was a huge bonus. I did kind of miss the disco lights of Psycle, and while my colleagues all loved the candles schtick, I only found out after the class that they weren't real flames so spent most of it imagining us all dying in a spin-related inferno which put a bit of a dampener on my mood.

Remee: This is probably the boujiest boutique gym I've ever been to. The space is pretty bright and clean and it definitely looks fancy. There was even facial oil on offer in the ladies changing rooms! And I never ever thought I could be impressed by a water machine, but oh my god, it was seven times filtered and it was DELICIOUS! WATER WAS DELICIOUS! The changing rooms however, were far too small. As someone who has been to spin before, I wasn't nervous, but when loads of people started showing up the changing rooms got really hectic and started making me a bit anxious. Also, what's the point of having three types of moisturiser if you can't even get to it because there are 14 bare bums in the way? It was legitimately stressful being in there.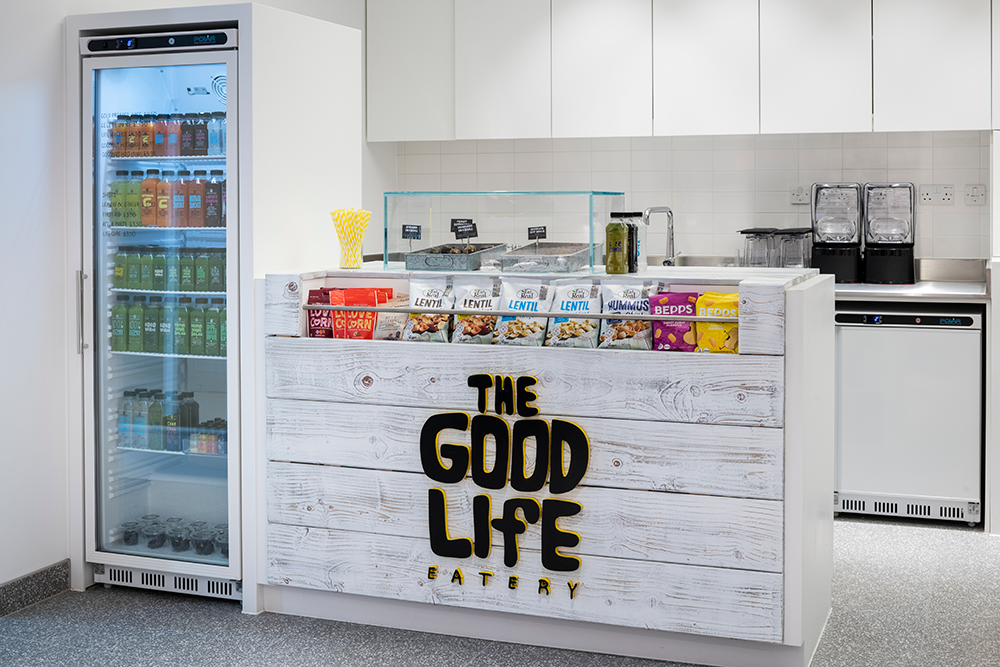 Ben: I really enjoyed the changing rooms, (I feel like the male ones must have been less busy). I literally used every product in there and they all smelt amazing. I left feeling refreshed and smelling great, which was a real feat considering how much I had been sweating during the class.
Hanifah: Going into the changing room, I noticed that it was very luxurious, but I didn't really feel comfortable because it was so so packed! After the class I used all the products in the shower, and I felt the opulence. I would've loved to spend more time in there but I couldn't get a seat, so I really just wanted to get out of there.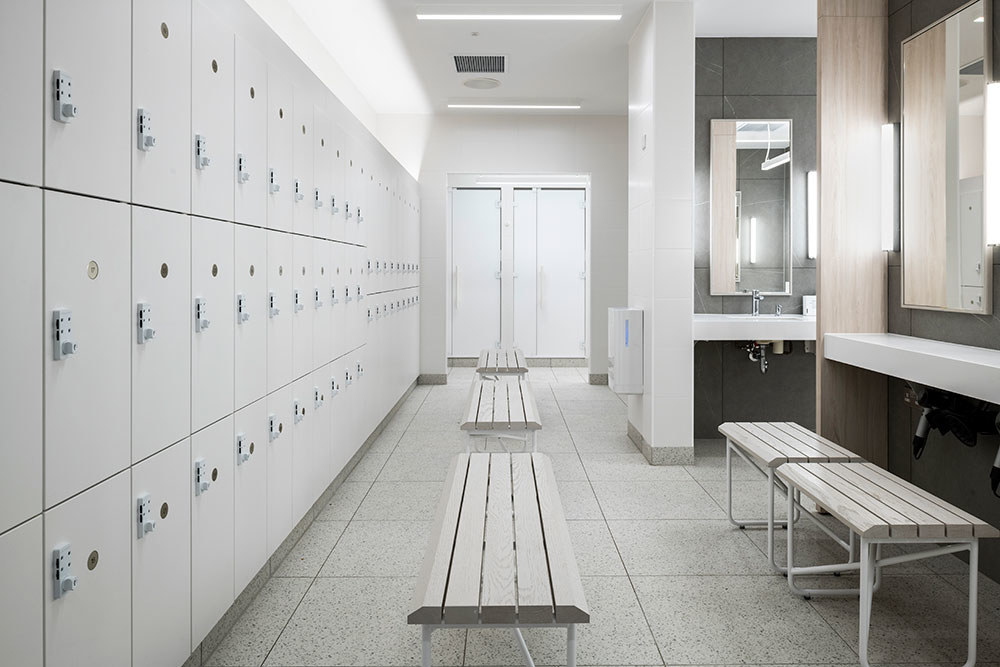 Sam: I was excited about all the stuff that you get given as part of signing up – towels, shoes, water. What can I say? I'm easy to please.
Josie: SoulCycle is premium. The white and yellow colour scheme feels super LA and sets you up for feeling like this is going to be a really positive experience. One negative about the whole thing was definitely the changing room situation. They were too small for the amount of people that were constantly milling in and out so while there are great facilities, you can barely reach any of them and feel like you're taking up too much space most of the time. I would definitely recommend turning up in your gear so you don't have to battle people before and after your class. Other than that the whole place is pretty swish. I mean, Le Labo shower gel?! Drunk Elephant moisturiser?! Dyson hairdryers?! How much money did they spend on this!

Ben: I've never sweated so much in my life but I feel strong AF! SoulCycle may have just converted me to spinning.
Sam: It was cute for a taste, but not for a swallow.
Remee: The class was energetic and fun, but the space is just far too small and crowded to enjoy the full experience. If it were bigger it would be great for a workout when you feel like you want to pamper yourself a bit too. You're paying a premium to have a great workout BUT to have the best facilities, so if you don't get to use them, it doesn't feel worth the money.
Josie: I enjoyed the experience but I'm Psycle loyal for now.
Hanifah: Overall, I really liked it – I felt like I got a great workout and a mindful experience all rolled into one. I'd say it does live up to the hype – it's pretty glam, I just wish it wasn't so packed.
Services were provided by SoulCycle London to BuzzFeed free of charge, but we were under no obligation to be positive in our coverage. You can book a class at SoulCycle or find out more, here.
Source: Read Full Article