Your Guide to All of Ben Affleck's (Highly Questionable) Tattoos
Ben Affleck is a man of many talents, but good taste in tattoos does not happen to be one of them. While his most well-known ink is definitely the massive phoenix inexplicably rising from the ashes on his back, Ben actually has several other tattoos adorning his body. Of course, none of these non-phoenix choices are so extra that not one, but two of his ex girlfriends ever felt the need to go on record about how much they hate 'em, but ya know.
Without further ado, she said with alarm in her voice, here is an exhaustive and somewhat troubling run-down of Ben Affleck's "body art," a curious collection of designs that keep many people (me) up at night.
Ben's Massive Back Phoenix
Where to even begin? I guess we might as well start with when Ben first debuted his phoenix tattoo in summer 2015, just a few days after his split from Jennifer Garner was publicly announced. Speaking of Jennifer G., here's what she had to say about Ben's new bird friend: "You know what we would say in my hometown about that? 'Bless his heart.' A phoenix rising from the ashes. Am I the ashes in this scenario? I take umbrage. I refuse to be the ashes."
Truer words. Anyway, here's the tattoo.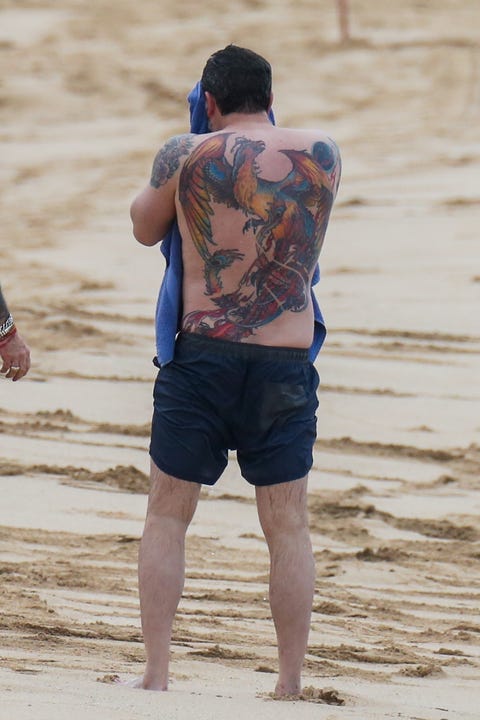 Oh, and if you're wondering how Jennifer Lopez, Ben's current and also former girlfriend, feels about the phoenix, she told Watch What Happens Live in 2016, "It's awful! And I would tell him that. What are you doing? It has too many colors! His tattoos always have too many colors. They shouldn't be so colorful, you know what I mean? They should be, like, cooler."
Truly, we all wish Ben Affleck's tattoos were cooler. In fact, Ben Affleck potentially wishes Ben Affleck's tattoos were cooler, given that he initially lied about his phoenix and claimed it was fake during an interview with Mario Lopez on Extra. But he later told Ellen that the tattoo was, in fact, not the world's worst temporary tat, and actually represents "something really important" to him.
Ben also explained why he lied on the record to poor Mario Lopez, telling the New York Times in 2019, "I resented that somebody got a picture of it by spying on me. It felt invasive. But you're right. I could have said, 'That's none of your business.' I guess I got a kick out of messing with Extra. 'Is your tattoo real or not real?' Of course, it's real! No, I put a fake tattoo on my back and then hid it."
His Mysterious "OV" Tattoo
It's pretty impossible to find photos of this one because the phoenix covered it up, but Ben previously had "OV" written on his shoulder blade, with 'MOH NON TE" written above it and "TA OR" written below it. According to Gawker, "MOH NON TE" is an anagram for "one month" but the rest is a mystery!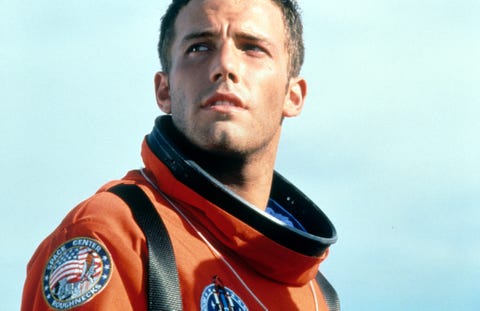 Ben's Little Dolphin Friend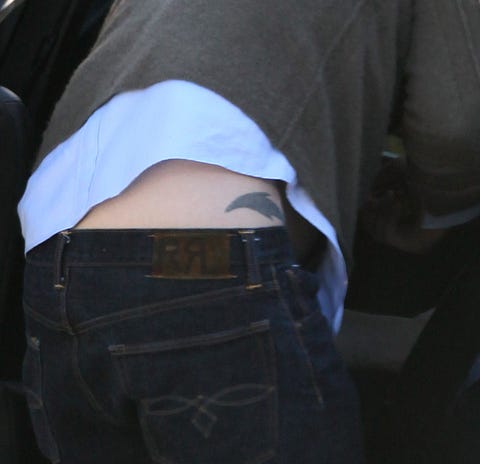 Please be advised that the phoenix isn't the only animal scampering across Ben Affleck's bod. He also has this weird lil dolphin chilling out on his hip, which Page Six once lovingly referred to as his "dolphin tramp stamp." According to the outlet, the actor got the tattoo to cover up the name of his high school girlfriend. Moving on!
His Random Barbed Wire and Cross
No idea why Ben got the barbed wire part of this, but gonna assume it was during some sort of nihilistic phase in which he was trying to be edgy. Either way, apparently it's one of several tattoos Ben got as a teenager and definitely regrets.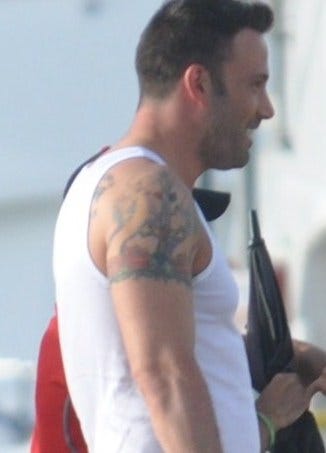 According to People, Ben spoke out about some of his older tats, musing, "I was young. It was fun and cool. I'm sorry now, but it is a good lesson in decisions that have important and long repercussions."
Here's another important look from the "Jenny from the Block" video, thanks for your time:
Ben's Similarly Random Flowering Cross
This one is on Ben's other bicep and if you have questions, I am so sorry to report that I do not have answers.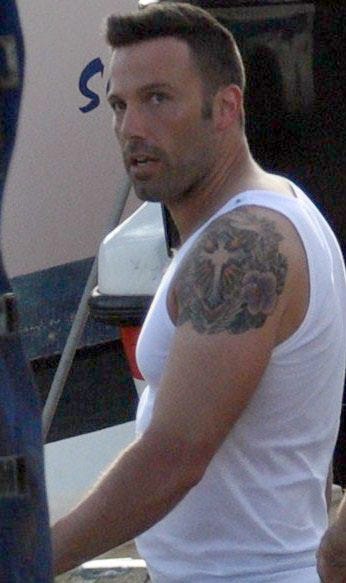 Welp. This has been fun and weird. Join me in a collective prayer that Ben Affleck never gets another tattoo again!
Source: Read Full Article