The Kardashians-Jenners and Nicki Minaj Mourn Death of Business Manager After Brutal Murder
A boyfriend of Angela Kukawski, who worked with the famous family and the 'Starships' rapper, is arrested after she was found dead inside her car in Simi Valley.
AceShowbiz -The Kardashians-Jenners and Nicki Minaj are mourning the death of their business manager. Angela "Angie" Kukawski, also known as Angela Castro, a Los Angeles-based business manager who worked at Boulevard Management in Woodland Hills, has been murdered.
Following the sad news, the Kardashian-Jenner family has released a statement to pay tribute to Angela. "Angela was truly the best," they remembered their former business manager. "She cared about everyone of us and made things happen that were impossible. She will be greatly missed and we send our sincere condolences to her family and loved ones during this most difficult time."
Nicki Minaj echoed the sentiment in a message posted on her Instagram Story on Wednesday, December 29. "Hardest working, most reliable, sweetest person you could ever know. You didn't deserve this, Angela," she penned. "My heart is breaking for your children. Rest In Peace."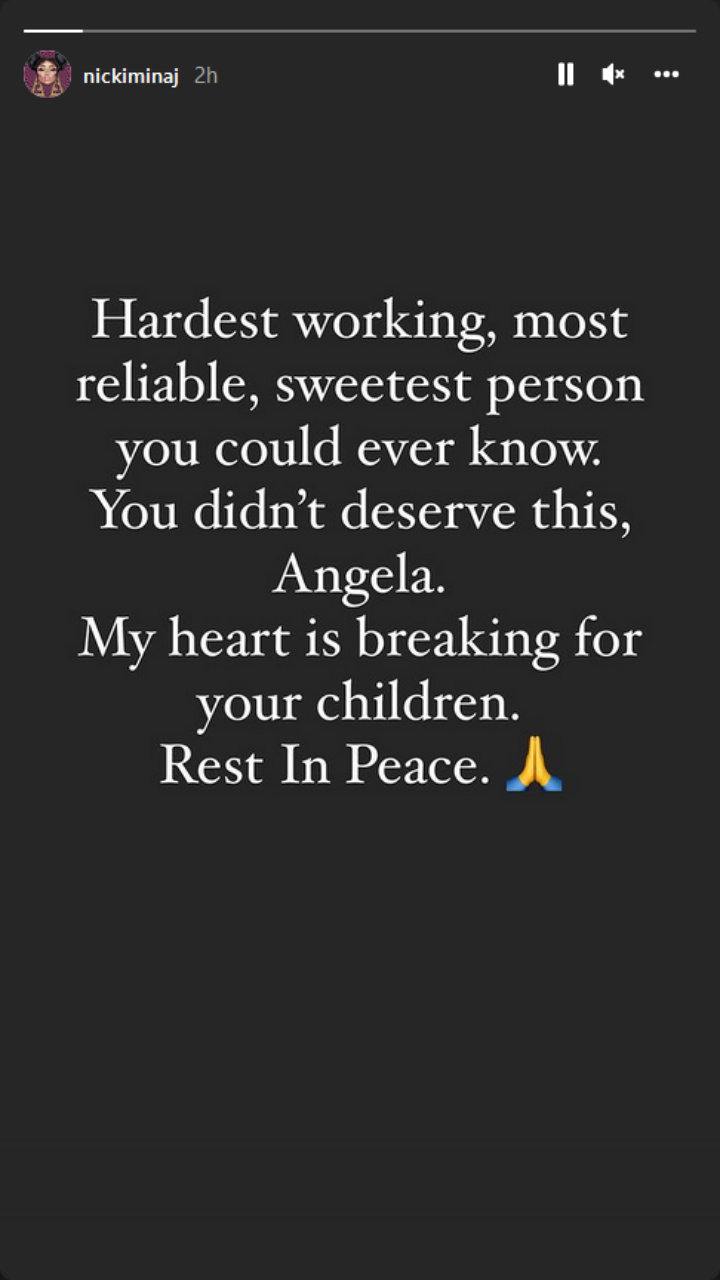 Nicki Minaj mourned the death of business manager Angela Kukawski.
A member of Angela's firm, Todd Bozick, also mourned her death. "We are saddened and heartbroken by the loss of our colleague, Angie Kukawski," he said in a statement to Variety. "Angie was a kind, wonderful person, and she will be greatly missed by all who knew her. Our deepest condolences go out to all of Angie's family and friends."
Angela was found dead inside her car in Simi Valley, just north of Los Angeles on December 23. Los Angeles Police Department officers and Simi Valley Police Department personnel discovered her deceased body in the trunk of the car after they arrived at the 1500 block of Patricia Ave to conduct a follow-up on a missing person's investigation. She had been reported missing the day before.
Angela's boyfriend Jason Barker, 49, has been arrested on suspicion of murder. He is being held on a $3 million bond, according to jail records. He has been charged with once count each of torture and murder.
Police believe Jason killed Angela at her Sherman Oaks home they shared, put her body in the car and drove it to Simi. In a felony complaint filed in Superior Court, prosecutors said that Jason, using a knife, "did unlawfully and with the intent to cause cruel and extreme pain and suffering for the purpose of revenge, extortion, persuasion and for a sadistic purpose, inflict great bodily injury" upon Angela.
Angela's clients also included Kanye West, Offset and the estate of Tupac Shakur. According to friends, she was beloved in the industry and is described as "hard-working" and "a straight shooter" by one music business associate who had liaised with her. The 55-year-old left behind her 5 children.
Source: Read Full Article