Sarah Jessica Parker Criticizes the "Double Standard" of Growing Old in Hollywood
In a world of fillers, fox threads and mini face-lifts, it's no wonder that so many of us feel the pressure to avoid – *gasp* – growing old. In fact, almost a million botox injections are carried out every year in the UK (per this 2021 study), and last year women had 93% of all cosmetic procedures performed in the UK, according to the British Association of Aesthetic Plastic Surgeons. It's for that reason that celebrities like Sarah Jessica Parker are often heaped with praise or criticised for embracing the au naturel look, something which she says is a massive "double standard".
Speaking to Allure, And Just Like That's SJP opened up about how she's tired of people branding her decision to let her hair go grey as "brave".
"It became months and months of conversation about how brave I am for having grey hair," she said, recalling when a photo of her dining out in Manhattan with no make-up on and her hair pulled back went viral last year. "I was like, please please applaud someone else's courage on something!"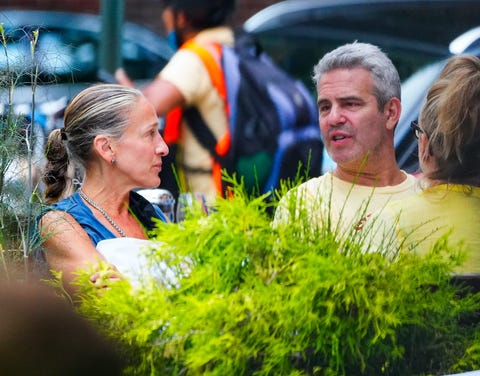 "We never talk about that with the other sex," she added, pointing out how male celebrities (or men in general) are less likely to be the subjects of such conversations. "We don't say to them: 'Here's a cream to pretend this didn't happen.'" Recalling the bare-faced, grey haired photo from last year, SJP questioned why her friend Andy Cohen, who was also in the photo, didn't receive the same comments as she did. "Andy has a full head of beautiful grey hair," she said. "But no one mentioned him, sitting right next to me. Not a soul."
The 57-year-old continued: "I'm not angry, it's just an observation… Some of it hurts for a minute, it smarts. And some of it confounds me because of the double standard that is so plainly illustrated."
Sadly, SJP isn't alone. In fact, earlier this year her AJLT co-star Kristin Davis echoed much the same thought as she told New Beauty: "It can be extremely stressful to be ageing and to be compared to your much, much, much younger self."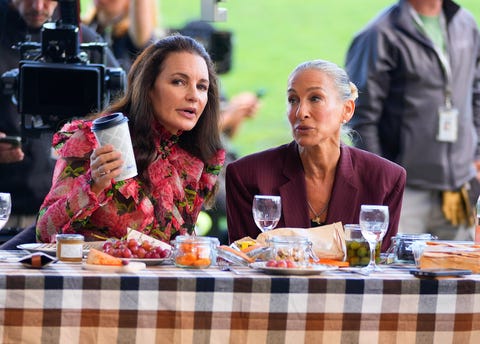 Kristin went on: "If I was from a regular life, I would feel fine; I would feel great! I'm healthy, I'm strong, I've got this little three-year-old son, and I carry him around and it's all good – but, no, I'm on television, where every bit of my physical being is analysed."
We're so here for these two incredibly beautiful icons speaking out on this!
Source: Read Full Article