Patrick Mahomes and Brittany Unveil Baby Daughter's Face for the First Time
Prior to sharing their first child's photos on social media, the NFL superstar's fiancee Brittany once admitted that she was reluctant to share pictures of her little one.
AceShowbiz –Patrick Mahomes and Brittany Matthews have finally presented Sterling Skye on their social media accounts. Nearly four months after her arrival, the NFL superstar and his fiancee unveiled their baby daughter's face for the first time.
On Friday, June 11, the 25-year-old athlete shared an adorable family portrait on his Instagram page. In the photo, the athlete and his fiancee posed with a huge smile on their faces with the little girl. The first-time father captioned the post, "Hello World!" In the snap, Patrick was seen wearing a blue Adidas T-shirt with white shorts. To complete his look, he paired his casual outfit with a pair of white Adidas sneakers.
In the meantime, Brittany, who held baby Sterling while posing, donned a white T-shirt and black leggings. She was also captured wearing matching sneakers with her beau. The little girl, on the other hand, was dressed in a black-and-white Adidas tracksuit. She looked adorable as she wore a black ribbon headband.
Brittany also took to her Instagram page to share a similar snap. In the caption, she simply penned, "Hi, my name is Sterling [love]." Offering a closer look at the little girl, the first-time mom shared another cute portrait of her toddler in her Instagram Story.
The Story, which was later reposted by Patrick, came along with a note that read, "My twin, my best friend, my world, my heart is so full [love]." In the snap, Sterling looked adorable as she was dressed in a floral printed onesie and a cute pink bow headband. The 3-month-old girl was seen smiling sweetly at the camera.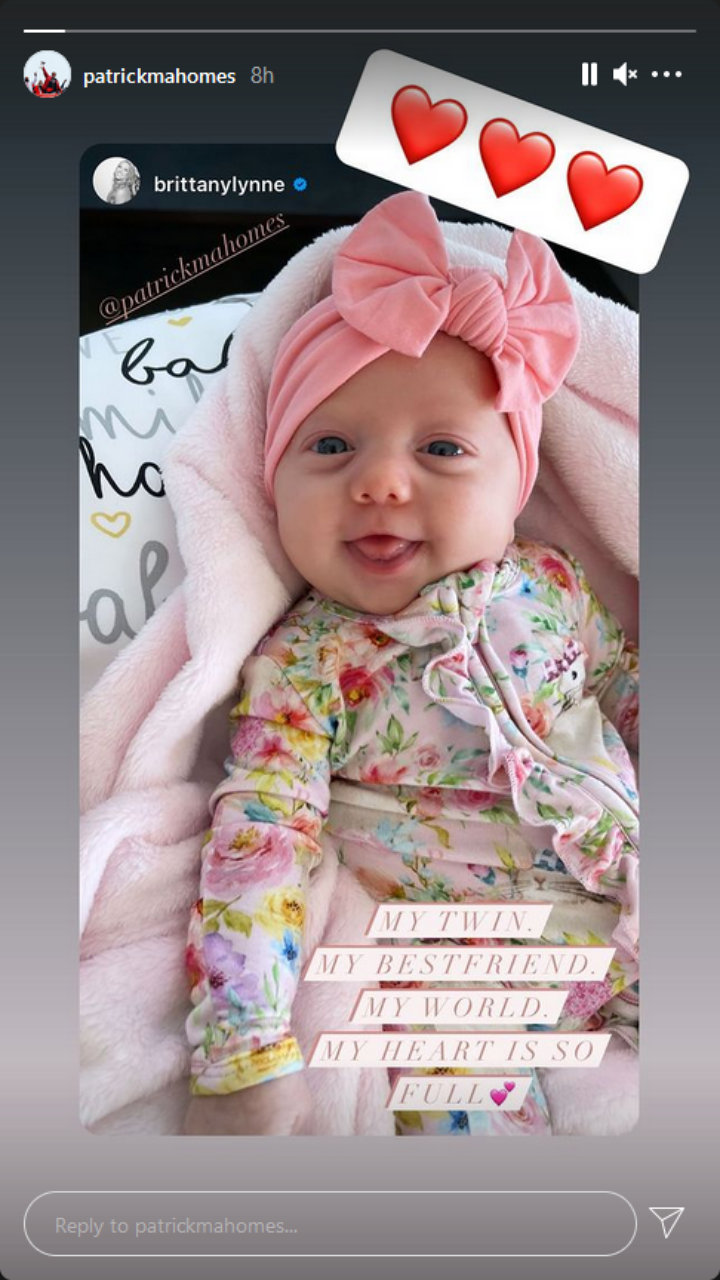 Patrick and Brittany shared a closer look at their baby daughter via Instagram Story.
Prior to baby Sterling's debut on Patrick and Brittany's Instagram feeds, the 25-year-old mom once revealed that she was reluctant to share pictures of her little one. She admitted via Instagram Story in March, "Also, as far as posting photos and showing you guys, I really just don't know. I just love keeping her to ourselves and to our family."
"I just don't need her blasted all over the internet and everyone posting photos of her. Maybe one day we will, maybe one day we won't," Brittany elaborated. She added, "Who knows? But I hope you guys respect that and understand."
Patrick and Brittany welcomed daughter Sterling on February 21. They confirmed the little girl's arrival via Instagram by posting a snap of the baby's tiny hand with theirs while the new mom showed off a necklace bearing their kid's name.
Source: Read Full Article