Kaitlyn Bristowe Fires Back at Online Troll Calling Her Face 'Busted'
The TV personality, who joined season 17 of 'The Bachelorette' as a co-host with fellow alum Tayshia Adams, also hits back at one critic who suggests her appearance is 'different.'
AceShowbiz –Kaitlyn Bristowe is not here for negative comments about her appearance. Having found someone calling her face "busted," the season 11 star of "The Bachelorette" set aside time to fire back at the online troll.
"So sick of women commenting on my face. Jesus," the TV personality wrote on Twitter on Thursday, June 17. It was her response to the hater's comment which read, "Bah god @kaitlynbristowe's face is BUSTED #TheBachelorette."
Kaitlyn also responded to another critic who tweeted, "Can anyone tell me what's different about @kaitlynbristowe look? I can't put my finger on it #TheBachelorette." In her defense, the reality star elaborated, "6 years since I was on the show, Brow lift, brow micro blading, got my teeth bonded, some filler In my lips, aging, darker hair, and I finally learned how to contour. Oh and I put on some weight."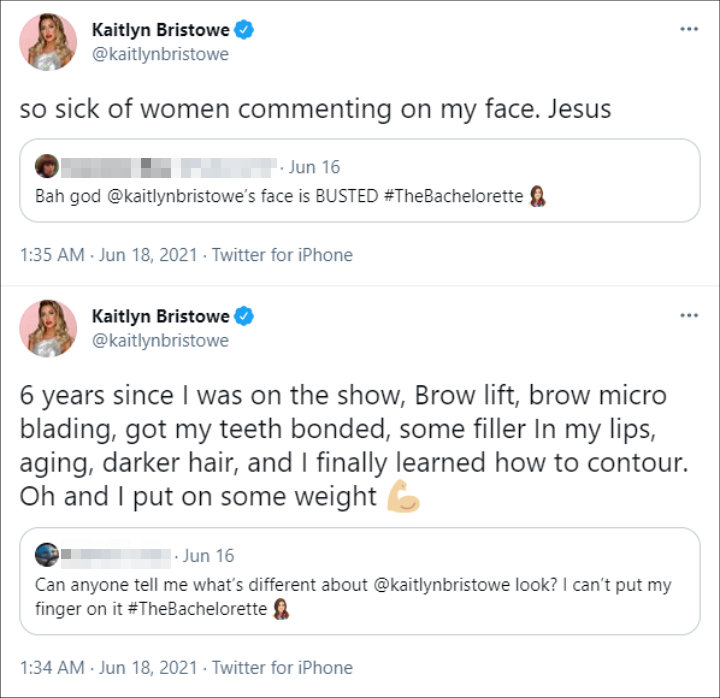 Kaitlyn Bristowe called out trolls criticizing her face.
Not stopping there, the 35-year-old beauty went on to address the harsh comments through a video in which she explained, "Let me clarify brow lift because I'm having a chuckle over here, clearly by myself." She continued, "Brow lift, I didn't go under the knife, all my friends are like, 'What?' No, I just got Botox to lift the brows."
Many of Kaitlyn's fans, however, were quick to come to her defense. "Don't forget that you met the love of your life, opened multiple companies, and won DWTS. That joy leaves a mark," one supporter wrote, to which she simply replied, "Amen." Another stated, "Women putting down other women is a sign of their own insecurities. Ignore the haters."
That aside, Kaitlyn recently shared some happy news to her fans that she has gotten engaged to beau Jason Tartick. When speaking about the proposal in an interview with Entertainment Tonight, she raved, "It was everything I could have asked for. The words that came out of his mouth were insanely beautiful. We've never locked eyes like that in our lives. We were holding hands, so intense, and I was listening to his every word, but still blacked out."
Source: Read Full Article