Josh Duggars Wife Reveals She Secretly Welcomed Seventh Child as He Awaits Child Porn Trial
In a new social media post, Anna Duggar launches the first photo of her newborn daughter as the family awaits the fate of Jim Bob Duggar's son, who was arrested for possession of child pornography.
AceShowbiz –Josh Duggar and Anna Duggar have officially become parents for the seventh time. The wife of the former "19 Kids and Counting" star announced on her social media page that the couple has secretly welcomed their newborn baby girl.
On Tuesday, November 16, the 33-year-old mom took to her Instagram account to share the exciting news. Alongside a sweet photo of the couple's newest bundle of joy, she wrote, "Meet little Madyson Lily Duggar!"
Not stopping there, Anna also shared the picture of Madyson on her Instagram Story. Over the image, the mother of seven added more detail of her newborn child's birth. She wrote that her baby's arrival was on October 23 at 2:39 A.M. She weighed in at 7 pounds, 9 ounces and measured 20 inches at the time of her birth. Baby Madyson joins her older siblings 12-year-old Mackenzie, 10-year-old Michael, 8-year-old Marcus, 6-year-old Meredith, 4-year-old Mason and 23-month-old Maryella.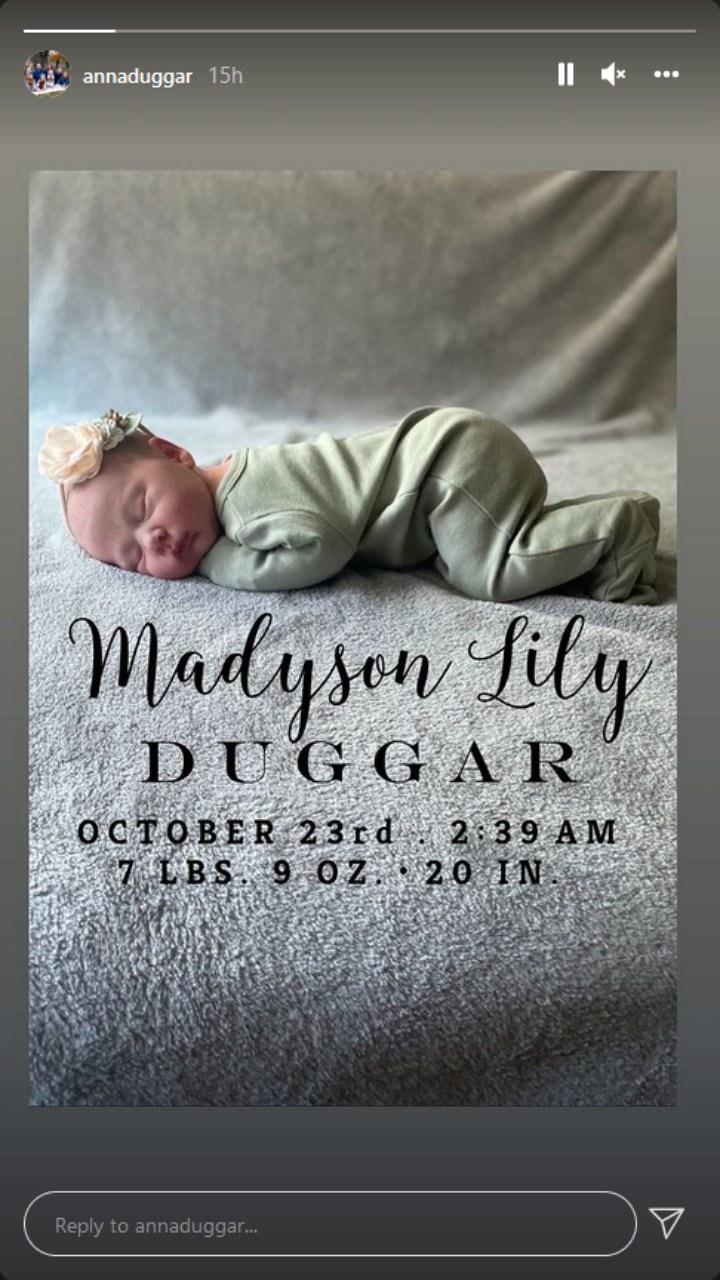 Anna Duggar shared more details of her newborn daughter's birth.
Following Madyson's arrival, Michelle Duggar and Jim Bob Duggar gushed over the baby girl. "We are always delighted to welcome another grandchild," the couple said in a statement shared on Tuesday. "They are each a beautiful treasure from the Lord."
The baby's arrival news came amid Josh's ongoing child pornography case. Josh, who is the eldest child of Michelle and Jim, was taken into federal custody in April, just weeks after he and Anna announced they were expecting baby No. 7.
"It's a GIRL!!!!!" Anna wrote via Instagram at the time. She went on to express her excitement as saying, "We are overjoyed to announce baby seven is on the way and we can't wait to hold her in our arms this fall!"
Josh was sent behind bars at the Washington County jail in Arkansas and charged with receiving and possessing child pornography. The reality star entered a not guilty plea and was set to begin his trial in July. He then filed a motion in June to extend the trial date to 2022, but the judge only granted a four-month extension. The trial is now set for November.
Source: Read Full Article