Joe Rogan Thinks Will Smith Is 'Always on the Verge of Crying': 'He Lives in Hell'
Podcast host and comedian Joe Rogan is no stranger to speaking his mind. Rogan frequently opens up about fellow celebrities on his acclaimed podcast, The Joe Rogan Experience, talking about pop culture hot topics and various news stories.
Always outspoken and sometimes controversial, Rogan lives by his own rules when it comes to celebrity chatter. Recently, Rogan spoke up on an episode of his podcast, revealing his thoughts on actor Will Smith – and even admitting that he thinks Smith looks like he is "always on the verge of crying."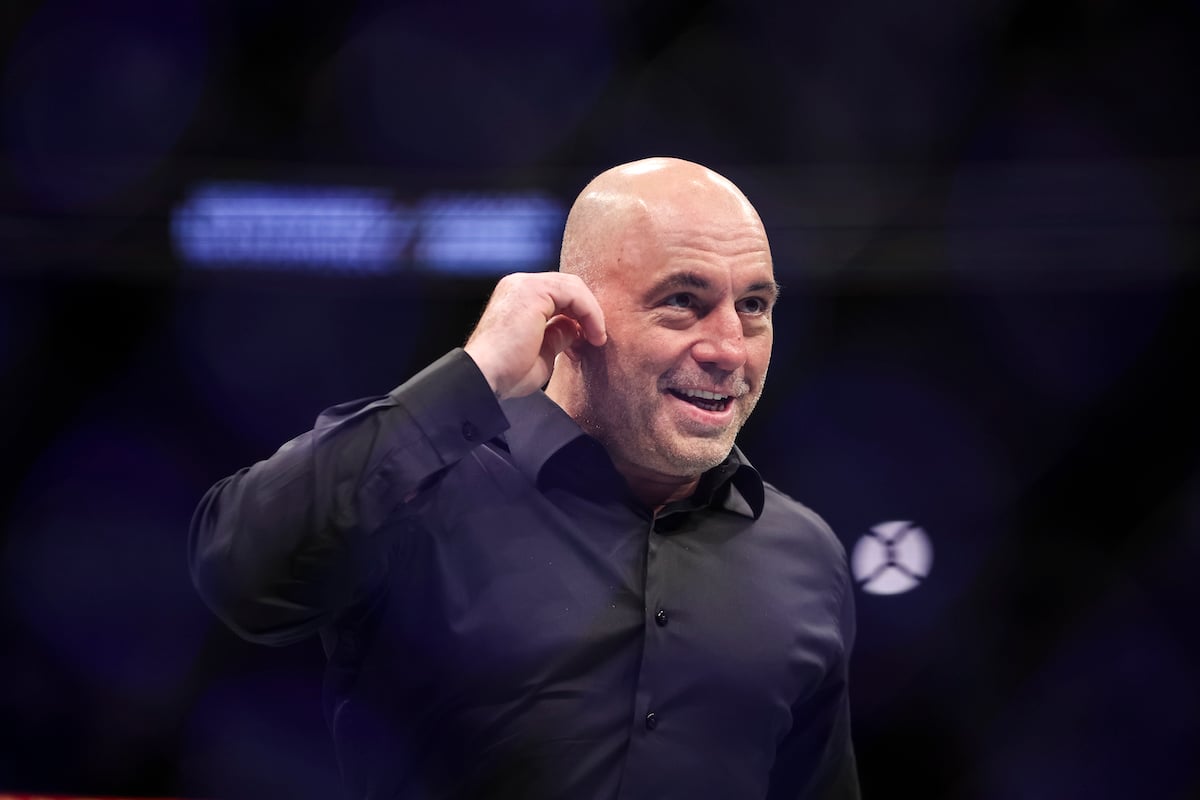 Why did Joe Rogan say that Will Smith is 'always on the verge of crying'?
In an early May episode of The Joe Rogan Experience, Rogan talked about Will Smith, admitting that he thinks Smith, like all good actors, is "a little crazy." According to the New York Post, Rogan praised Smith's acting abilities, saying "He's an amazing actor, right? He shows emotion in his film, it's so real. The guy's probably always on the verge of crying, it's probably a mess."
Rogan went on to note that he believes Smith's allegedly tense relationship with his wife, Jada Pinkett Smith, is somewhat to blame for Smith's behavior in recent months.
He referenced the incident when Smith slapped Oscars presenter Chris Rock after the comedian made a joke that included a nod to Pinkett Smith's bald head, saying "The whole thing was just, oh my God. Like, he's under a spell, like he's been captured by witchcraft. He's one of the biggest movie stars ever, and he lives in hell. He lives in hell."
Will Smith recently made headlines for the infamous Oscars slap
At the 2022 Academy Awards, all eyes were on Smith, with many expecting the popular actor to win his first Oscar for his work in King Richard. However, the joyous mood of the evening quickly turned sour when Smith strode onstage after Rock made a joke that referenced Pinkett Smith's bald head, slapping Rock hard across the face.
Smith then exited the stage, yelling at Rock even after he had taken his seat. The moment shocked fans all around the world, and although Smith didn't face any consequences that evening, the damage had been done.
In recent weeks, polls have rated Smith as a celebrity that people are sick of hearing about. The slap also went viral, causing other celebrities to weigh in on what Smith had done. Even noted comedian Ricky Gervais spoke out about Smith, saying that the confrontation looked to him like "bullying."
Will Smith and Jada Pinkett Smith's marriage has long been a hot topic
The Oscars slap might have caused conversations about Smith's mental well-being to intensify, but there have long been rumors that Smith is struggling behind the scenes. In the fall of 2020, Smith's marriage made headlines when Jada Pinkett Smith revealed that she had been in an "entanglement" with much-younger musician August Alsina.
The controversy was addressed in an episode of Red Table Talk, attended by both Will and Jada Pinkett Smith. Memes and photos of Will Smith appearing to get teary-eyed during the conversation with his wife circulated the internet in the days that followed.
While Smith took to YouTube to claim that he wasn't sad, claiming that he gets dehydrated frequently, which causes his eyes to water, many fans weren't entirely convinced. It seems that when it comes to the truth of Smith's life behind the scenes, fans might never know the truth. Still, comedians and personalities like Rogan will continue to speculate, in an attempt to uncover what's really going on with the beloved actor.
Source: Read Full Article