Inside Emma Corrins Gender Identity Journey
"The Crown" actor Emma Corrin shared several powerful photographs on their Instagram page on July 5, and the images generated a huge response from fans and followers. Most of Corrin's supporters are familiar with the actor's work as Princess Diana in the Netflix series "The Crown," a role show creator Peter Morgan felt may have been destiny for the young star. Morgan told The Guardian he thought "a small part" of Corrin might agree that they "ha[ve] an uncanny, fated connection to the character and was born to play the part."
Speaking with The Guardian, Corrin detailed an "overwhelming appreciation" for Diana's "complexity," adding that they "went into every working day thinking about this swinging scale of vulnerability and strength." And while Corrin was appreciative of the opportunity, the actor is "also quite pleased to move on." 
Corrin's latest Instagram photos aren't about filming "The Crown." Instead, the actor has shared a glimpse into their gender identity journey. "I do whatever I can to resist changing anything about myself for the satisfaction of other people," Corrin told The Guardian in January 2021. And if the comments on the star's latest post are any indication, fans are just happy the actor is doing what's best for them.
Emma Corrin shared bold photos highlighting their truth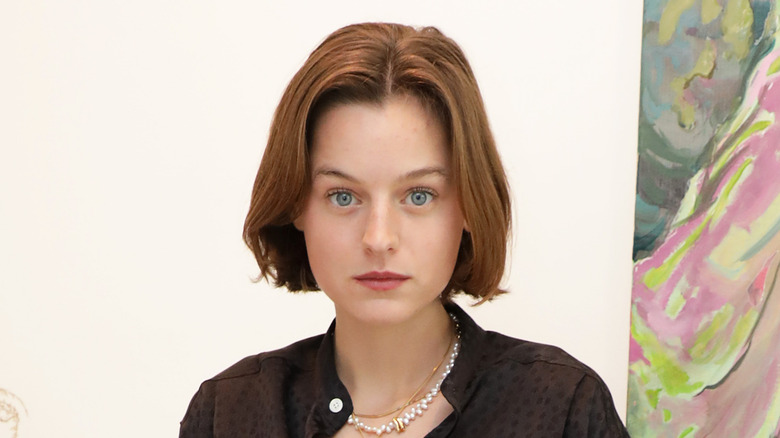 Off-screen, Emma Corrin has been navigating a significant personal journey, detailed Elle U.K. In April, Corrin shared a series of photos on Instagram and mentioned being a "queer bride." Many fans took that as a coming out on the actor's part, although "The Crown" star added no further clarification at the time. Weeks later, Corrin added a mention of using "she/they" pronouns in their Instagram bio, per Elle U.K. As of this writing, those pronouns are not visible in Corrin's web Instagram bio, but as Today noted, they can be seen on the mobile version of the page.
Corrin's June 5 Instagram post included three black-and-white photos showing Corrin wearing a chest binder or covering their bare upper chest. As People shared, chest binders are frequently used by individuals who are nonbinary or transgender, as they can reduce feelings related to gender dysphoria by compressing the chest. 
"[S]ome time before I bought my first proper binder, messing around with @sirdavidsimon, we used boxing wrap, thanks for capturing this with me, very intimate, very new, very cool," Corrin wrote while tagging both gc2b and Spectrum Outfitters as good choices for binders. "It's all a journey right. Lots of twists and turns and change and that's ok! Embrace it," Corrin added. The post was flooded with support, with many commenters writing notes such as "queer royalty" or as another praised, "I love you so much I'm so proud of you!"
Source: Read Full Article