Gisele Bundchen Enjoys Horseback Riding With Joaquim Valente While Tom Brady Spends Time With Kids
The Brazilian supermodel and the NFL star legally ended their 13-year marriage in October last year and they have agreed to have joint custody of their kids, Benjamin and Vivian.
AceShowbiz –Gisele Bundchen has further fueled rumors that there's something special between her and Joaquim Valente. The supermodel was spotted enjoying a scenic horse ride with her hunky jiu-jitsu instructor, while her ex-husband Tom Brady spent quality time with the kids.
On Tuesday, January 24, the Brazilian beauty was photographed riding horses with Joaquim in Costa Rica. She was seen flashing a big smile as she trotted around on horseback next to her alleged new man.
Gisele dressed casually in jeans and a green tank top and looked effortlessly stunning as her long golden tresses blew in the wind. The jiu-jitsu pro, meanwhile, wore a blue T-shirt, jeans and a backward baseball hat.
Gisele and Joaquim first sparked dating rumors when they were spotted enjoying a dinner date in Costa Rica in November last year. Recently, a source claimed that she has a "deep personal relationship" with him.
While Gisele enjoyed her day with Joaquim, Tom spent some quality time with the kids, 13-year-old son Benjamin and 10-year-old daughter Vivian. On Wednesday, the seven-time Super Bowl champion first posted a video of his little girl playing around with a treadmill. "In other news….the cutest roomie in the world [an earth and red heart emojis] x infinity," the NFL star captioned his Instagram Story.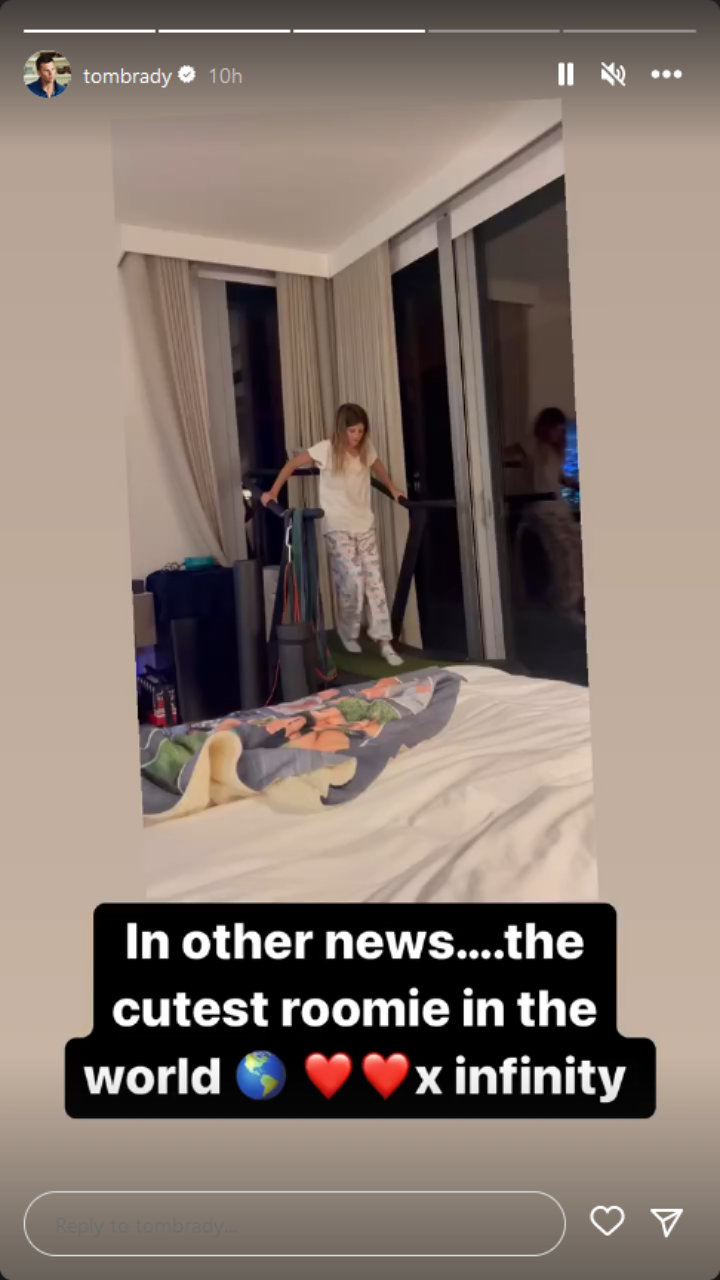 Tom Brady posted a video of daughter Vivian on Instagram Story.
In a following Story, Tom uploaded a photo of Vivian and shirtless Benjamin "monkeying around" in his bed. "And in other news…2 monkeys monkeying around," the 45-year-old father wrote over the sweet snapshot, adding two monkey emojis and a couple of red heart emojis.
Gisele and Tom finalized their divorce on October 28, 2022. Following the marriage split, the now-exes agreed to have joint custody of their kids. While Gisele, who "knows" that she "made the right decision" to end her 13-year marriage to Tom, continued to fuel Joaquim dating rumors, Tom has been linked to Miss Slovakia winner Veronika Rajek, who often gushes over him on social media.
You can share this post!
Source: Read Full Article