Felicity Huffman & her family are 'leaning on each other for support'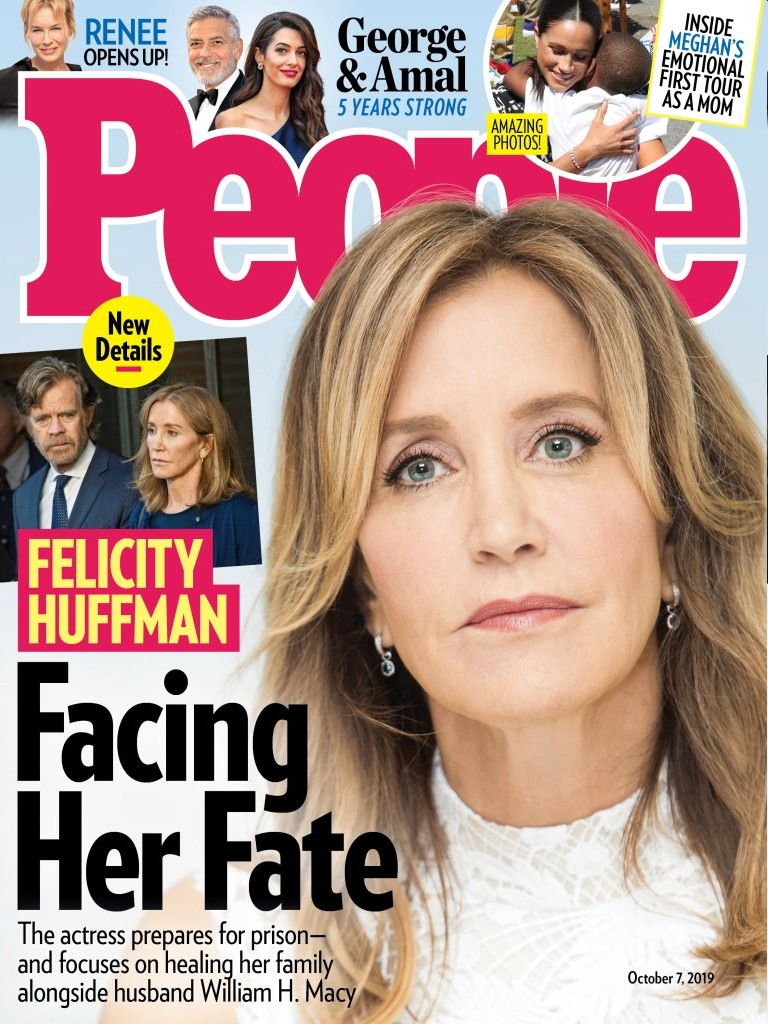 Have you noticed that People Magazine has treated Lori Loughlin and Felicity Huffman's legal/criminal issues like those issues are the worst things to ever happen to white women? It's particularly egregious in Felicity's case when all things were said and done. Felicity got caught doing something illegal, she was charged and she quickly took a plea. She ended up with a 14-day sentence. The end. But it's still inspired People Magazine to do dozens of stories about Poor Felicity and her endurance in the face of… doing crimes and barely facing any substantive punishment. But don't you know, the REAL punishment is what happened to Felicity's family.
Felicity Huffman and her husband William H. Macy are taking small steps towards rebuilding their family after the college admissions scandal rocked their foundation.

The longtime couple, who wed in 1997 and welcomed Sophia, 19, in 2000 and Georgia, 17, in 2002, are prioritizing family time as they continue to weather the controversy. Huffman, 56, and Georgia have also kept up their volunteer work at the Teen Project, a local rehab center for girls who have lived on the streets and who are trying to earn their GEDs, where they've been tutoring for almost two years.

"They are talking a lot and spending lots of time together," a source tells PEOPLE in this week's cover story, on stands Friday. "They're going for walks, playing board games and having family dinners. They are a solid group and they are leaning on each other for support."

The tight-knit family's quiet life "exploded" when six FBI agents entered their home in the early hours of March 12 and arrested Huffman, Macy wrote in a letter to the judge. Huffman later pleaded guilty for paying $15,000 to facilitate cheating on Sophia's SAT test by having a proctor correct the teen's answers. The Desperate Housewives actress and Oscar nominee has since been sentenced to 14 days in federal prison, plus a $30,000 fine, 250 hours of community service and a year of supervised release.

"The family has gone through some rough patches but they're fighting through them as best they can. They know it will take some time," the source adds.
[From People]
Wait, what? Georgia has been volunteering and tutoring girls who are trying to earn their GEDs? I thought part of Felicity's sob story was that Georgia and Sophia both had significant learning disabilities? But one of them is a tutor? Strange. It's almost as if… Georgia and Sophia were just average-to-poor students in general and Felicity wanted to buy their SAT scores to convince people that she has brilliant daughters. Or something, I don't know. I'm glad Felicity and Georgia volunteer. But enough of the sugary sympathetic stories. Felicity got what she deserved. In truth, she deserved a harsher penalty, but she just played it a lot smarter than Lori Loughlin.
Embed from Getty Images
Photos courtesy of Backgrid and Getty, cover courtesy of People.
Source: Read Full Article