Everything You Need to Know About Quinta Brunson's Super Low-Key Husband, Kevin Jay Anik
Quinta Brunson's career is beyond impressive. I mean, the Emmy-nominated actor began as one of the youngest video content creators at BuzzFeed Motion Pictures (aka the video-production arm of the media company responsible for billions of monthly views…casual!) before going on to create and star in the mega-hit Emmy-nominated sitcom Abbott Elementary.
And although she's been proudly vocal about the show's *massive* success, she's def a little (read: a lot) more hush-hush about her own private life, including her marriage to Kevin Jay Anik. How-ev-er! Lucky for you, we practically have a master's degree in snooping, so we've got you covered…to the best of our abilities, LOL. I mean we did say she's notoriously private! That said, here's what we do know about her adorable husband Kevin:
Quinta's husband is a sales manager
Now, I'm not saying that I could never do this job, but the fact that I still double-check simple algebra with my handy-dandy calculator app all but confirms it's kind of tough, okay? ¯\_(ツ)_/¯
News of their engagement was announced on IG
On July 30, 2020, Quinta announced her engagement with a stunning, fresh-faced selfie, complete with a close-up of her dazzling 💍💍💍. In the caption, she simply wrote, "More good news"—a reference to her previous announcement that A Black Lady Sketch Show just also happened to score an Emmy nomination.
https://www.instagram.com/p/CDQMoVijAeX/?utm_source=ig_embed&utm_campaign=loading
A post shared by Quinta Brunson (@quintab)
Obsessed!
Oh, and their wedding was the lowest of keys
According to Showbiz Corner, Kevin and Quinta tied the knot in a v intimate ceremony with close friends and family in September 2021, a little over a year after their engagement. Yes, it was probably amazing. No, there are no public pics, sadly.
Don't even try to look for him on social media
A true 1 of 1 kinda man, it doesn't seem that Kevin has any form of social media. Plus (!!), he's never appeared on Quinta's Instagram feed. Like we said…hush-hush.
https://www.instagram.com/p/Ce_lfvjlnsw/?utm_source=ig_embed&utm_campaign=loading
A post shared by Quinta Brunson (@quintab)
However, they *have* been spotted out and about together
…Like once. But! It was a red carpet appearance at this year's Time 100 Gala, which is absolutely worth approximately 37 regular sightings: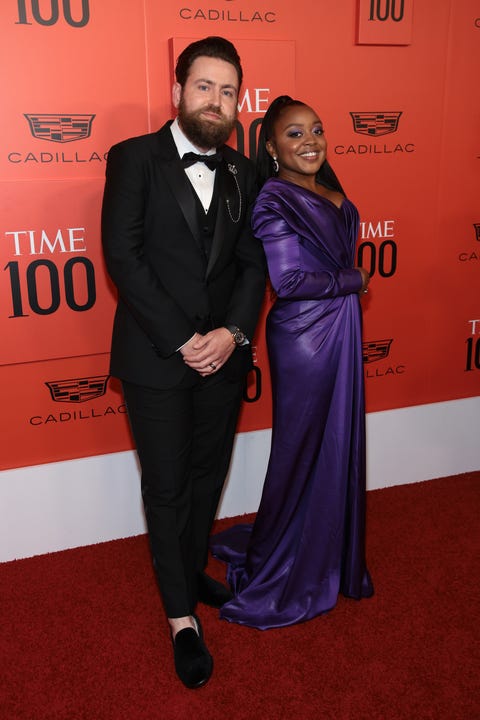 Aaaaaand that's all we know for now! BRB, gonna start manifesting bumping into the couple—stat.
Source: Read Full Article