Al Rokers Relationship With Willard Scott Explained
Willard Scott, beloved weatherman for NBC's "Today," died on September 4 at the age of 87, according to the network. Scott's career kicked off in 1955 when he hosted the "Joy Boys" radio show for NBC. He had a circuitous journey, playing Ronald McDonald in commercials and hosting kids' TV shows until 1980 when he became the weatherman for NBC's Today.
Scott became a fixture of the network and bonded with other key players in the NBC family. One person, in particular, got close to Scott: Al Roker. In fact, Roker announced the news of Scott's death on Instagram.
"We lost a beloved member of our @todayshow family this morning," Roker wrote in his caption. "Willard Scott passed peacefully at the age of 87 surrounded by family, including his daughters Sally and Mary and his lovely wife, Paris. He was truly my second dad and [I] am where I am today because of his generous spirit. Willard was a man of his times, the ultimate broadcaster. There will never be anyone quite like him." It's no mistake that it was Roker who announced Scott's death; the two were extremely close. Here's the story of their friendship.
How Al Roker became the Today weatherman after Willard Scott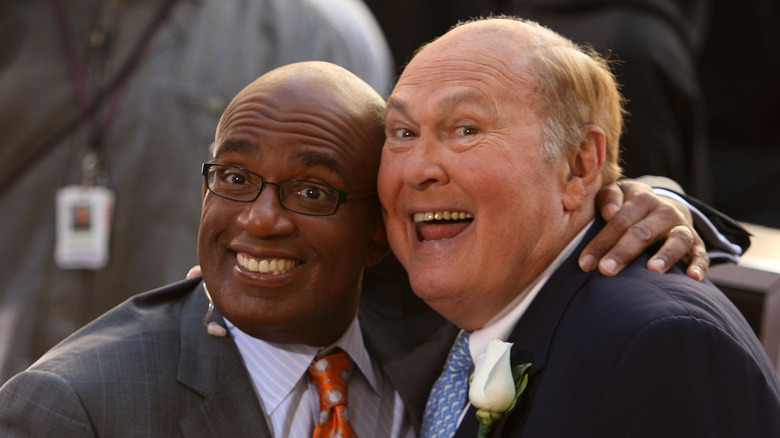 Al Roker joined NBC in 1996 as the morning weatherman, per Inc., and he quickly became a crowd favorite. Who doesn't love Roker? He wound up occasionally filling in for Willard Scott. "I got the 'Today' show kind of because I was already working on the weekend 'Today' show, and I got that job because I was filling in for Willard Scott," Roker explained, per Inc. "I was in proximity to Willard because I was doing the weather on WNBC News 4 New York. So, I kind of backed into doing the 'Today' show, mostly because I was close by, and I could wear Willard's pants."
Scott decided to semi-retire in 1996 and completely retired from TV in 2015, per Today. When Scott retired, Roker was the obvious choice. "Willard was the 'Today' show weather person, beloved, literally like a second dad to me," Roker said to Inc. of his mentor. "And he was the one who said, ya know what? I think it's time to step back, and I'm telling them they're crazy if they don't tap you. And I was fortunate they did, but I was the beneficiary of his largesse. Of saying, ya know what, it's time for me to semi-retire, and so far as I'm concerned, he's weathercaster emeritus at the 'Today' show." 
Clearly, Scott had Roker's back, and the two remained close until Scott's death. Here's that story.
Willard Scott was a "second dad" to Al Roker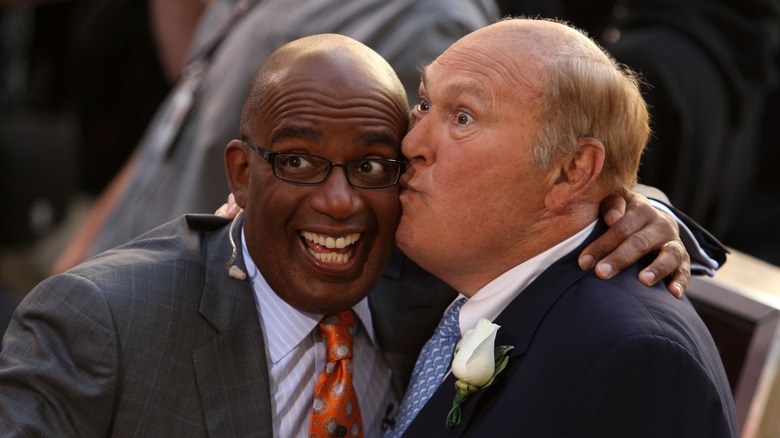 Willard Scott was a huge influence on Al Roker, both personally and professionally. Roker explained to Inc. how Scott often provided career advice for his young prodigy. 
"Willard gave me two of the best bits of advice personally and professionally," Roker said, per Inc. "First one was never give up your day job. I do the 'Today' show, but I also have a production company, Al Roker Entertainment… the other bit of advice Willard gave me is always be yourself. You can create a character, but eventually, people will see through that. If you're not who you are authentically, it just becomes too difficult. It's so much easier just to be you."
Time and again, Roker referred to Scott as a second father. In his commemorative Instagram post to the iconic weatherman, Roker called Scott "my second dad." And in 2015, Roker said to Today: "He's a friend. He is literally my second dad."
Source: Read Full Article